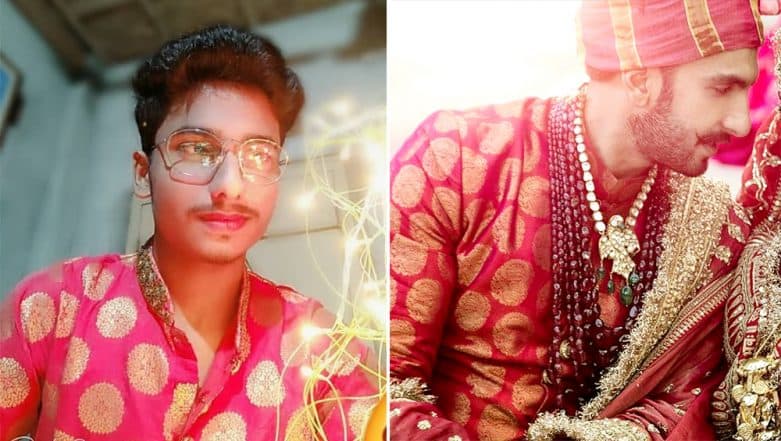 Deepika Padukone and Ranveer Singh finally had some pity on their fans as they decided to unveil the pictures from their Italian wedding. The couple took to their Instagram accounts to share a couple of pictures from their different ceremonies and we must say, their happy faces were a sight for sore eyes. Though the long wait almost killed our excitement and ruined the enthusiasm, yet the social media addicts had a field day making memes and trolling them for the same. While Twitter is currently flooded with different memes and some are too hilarious to ignore, this particular one is our personal favourite. The Cost of Deepika Padukone's Engagement Ring Will Burn a Hole in Your Pockets!
A Deepika Padukone fan is not really happy to see this new union yet he's trying to smile, courtesy Ranveer Singh! The Instagram user insists that the Padmaavat actor's wedding sherwani for his Sindhi wedding is similar to his Diwali outfit of this year. And if you see his Insta post, the chap is not really lying! His outfit is in fact very similar to Ranveer's red brocade sherwani and we can't help but agree with him. We wonder what the actor and the designer have to say about this! We hope they take it with a pinch of salt as the matter is not really grave. Dear Priyanka Chopra – Nick Jonas, Please Don't Disappoint Your Fans Like Deepika Padukone – Ranveer Singh!
Ranveer and Deepika's bridal trousseau was designed by the ace fashion designer, Sabyasachi Mukherjee. Their outfits were in sync with the different wedding themes and even the traditions. The couple preferred white and gold for their Konkani wedding and settled for radiant red for Sindhi ceremonies. While they shared candid shots from their wedding days, we are eager to see a full-length picture of them flaunting the designer's elegant designs. Any plans of revealing it?