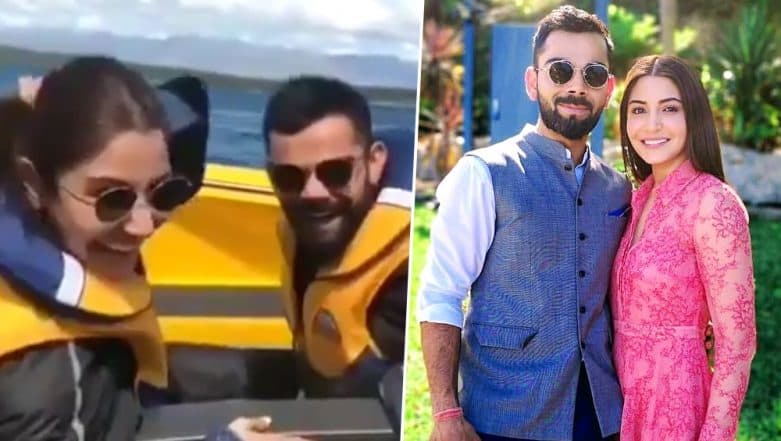 Anushka Sharma definitely knows how to balance her private life and professional life. The last time she was in the spotlight was when her movie Zero was about to release. After that, the actress has been MIA and the reason is Virat Kohli. Anushka makes sure that she accompanies her husband at least for a couple of his matches just so that they can spend some time together. The two also keep going on vacations or mini holidays ans and when they can and have loads and loads of fun! Virat Kohli and Anushka Sharma Off to a Romantic Holiday Post Australia and New Zealand Series, Post Cute Pics on Instagram.
The reason why we are mentioning this is because we just came across a video where Virat and Anushka seem to be having the best time of their life. The two are seen speed boating in the midst of an island. In the video, one can see Anushka learning to ride the boat along with a coach by her side, while Virat is thrilled to be a part of the boat ride. We like how the couple keeps trying new things together.... after all that's what keeps the spark alive and a relationship going. That's what makes them our favourite couple. Anushka Sharma and Virat Kohli Are Seen Spending Time With a Kid in this Unseen Pic.
Check out the super cool video below:
Crazy, isn't it?  We wonder how this video didn't go viral all this while!
On the work front, Anushka is producing a web series based on writings of journalist and author Tarun Tejpal, who was accused of rape by one of his colleagues in the year 2013 and is still facing trials for the case. As per reports, the series is going to be made on the novel named as 'The Story of My Assassins.' Anushka has received a lot of flak for taking up the project but she hasn't reacted to it as of yet.