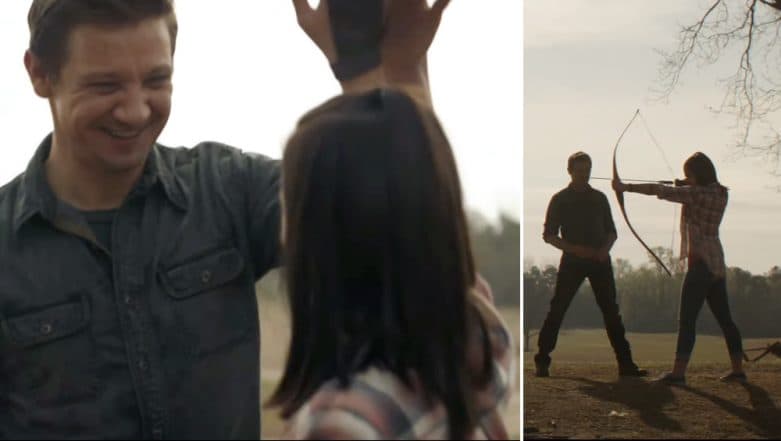 Expect the unexpected when it comes to Marvel. After dropping the new trailer of Avengers: Endgame (out of nowhere), the field was set for us to spot the hints and spoilers if any. One among which was the inclusion of Kate Bishop in MCU. The comic geeks and nerds would be well acquainted with her name, who's sort of prodigy to Clint Barton aka Hawkeye. One of the scenes in the trailer shows Jeremy Remmer training a young girl to aim at the target with a bow and arrow. Now she could be just his daughter as many viewers are claiming it to be. But she could also be Kate Bishop, right? Avengers: Endgame New Trailer: The First Twitter Reactions are IN and They Hail the Marvel Movie as 'Biggest Superhero Event'. 
Also, Hawkeye's new costume in the movie trailer hints about his new avatar as Ronin. Though the story behind Ronin is not revealed yet, comics suggest it's a tale of classic resurrection. After getting a new lease of life, Clint Barton's character is determined to take a new identity and ditch his usual bows and arrows. Now according to the books, after he changes into Ronin and adapts that as his new name, he passes over his mantle to Kate Bishop aka the new Hawkeye. Now that 3-4 seconds long scene in the new trailer may introduce a new character in MCU, a younger avenger or she may be his daughter, whom he loses to Thanos after he snaps his fingers. Avengers: Endgame New Trailer: Tony Stark's Return From the Space and Captain Marvel's Inclusion in the Team Are Just Some of the Many Reasons To Make us Jump With Joy (Watch Video).
Watch the new Avengers: Endgame trailer below
13 Reasons Why actress, Katherine Langford was earlier rumoured to play Kate Bishop in this universe. She was a part of the young Avengers team and she is as relevant as Jeremy Remmer's Hawkeye.