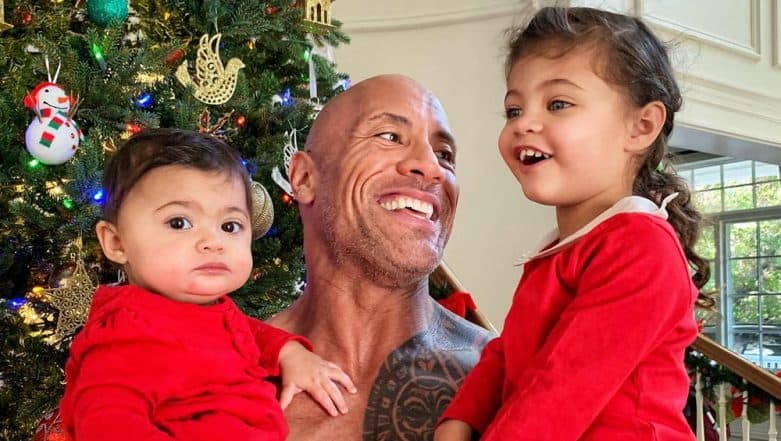 Christmas is that time of the year when the entire world gets a chance to light up their Christmas tree as well their relationships. Hollywood star Dwayne Johnson a.k.a The Rock is exactly following this ritual here. The former wrestler posted a cute and emotional post for his daughters Jasmine (3 yrs) and Tiana (8 months). He posted a picture with them calling them his 'cookies' and cherishing every moment with the babies. Dwayne Johnson and Emily Blunt's Jungle Cruise To Release on July 24, 2020.
The Baywatch actor posted, "I ain't gonna be able to hold 'em like this forever, so you better believe I snatch these cookies and love 'em up every moment I can. Plus, I know there's gonna come a day where in daddy's arms is the last place they want to be. Baby Tiana Gia is already there with the "help me" look on her face. Can't guarantee I'll love and protect all my daughters for the rest of their lives, but I can guarantee I will for the rest of mine."
Check Out The Super-Adorable Picture Here
View this post on Instagram
Now, if this message cannot tear you up, then we don't know what would! It is not a new thing for the fitness freak to post such cute posts dedicated to his daughters on Instagram. The proud daddy of three daughters is always up for some wonderful father-daughter moments and flaunts them in front of the world too. Missing from the frame, is his 17-year-old daughter, Simone. However, you can bet that Christmas 2018 must have been one of the best days of the star's life. We cannot wait to check out more such pictures in the upcoming year.