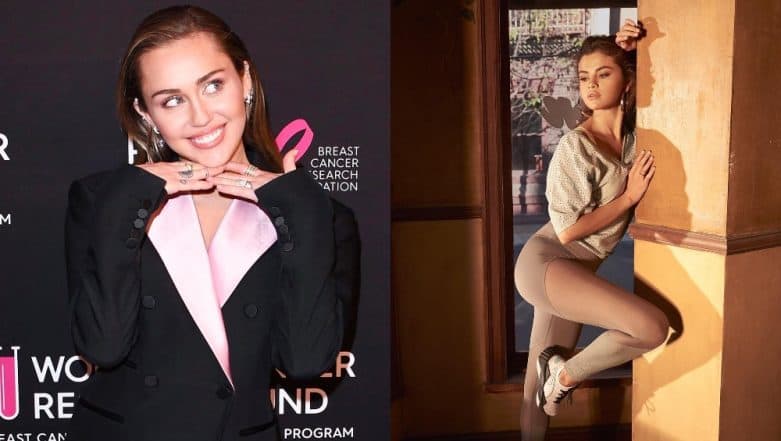 Miley Cyrus has been putting up Instagram posts and making her former Disney contemporaries go down the memory lane! The diva shared a throwback video of herself singing her single, '7 Things' with Selena Gomez in the audience. The video is from the 2008 Teen Choice Awards where Cyrus performed and got the audience involved too. Basically, the singer was going for the gen Z vs millennial angle with the video.
She captioned the video as, "Your generation = 7 Rings MY generation = 7 Things 💍7️⃣💍7️⃣💍7️⃣💍7️⃣💍 Simpler times. @selenagomez #MillenialsVSGenZ" The video was taken during the time when rumours were abuzz about Miley and Selena involved in a feud caused by Nick Jonas. Both the ladies dated him, after all. However, with Selena joining Miley for her performance, it was quite evident that things were okay between them. In fact, apparently, 7 Things was a song written by Miley about Nick Jonas! Anyway, Selena responded to the throwback video with "Tbt – such babies." On the same, another Disney alumni, Demi Lovato commented, "Iconic."
Miley Cyrus' Instagram post
Now Selena and Miley becoming best of friends are expecting a little too much from these ladies. However, it is nice to see the circle of Disney's gen Z come together and relive memories from the past. Earlier the Nothing Breaks Like A Heart shared a post on her IG page with ex Nick Jonas. Surely, the post did get reactions from Jonas' wife Priyanka Chopra. The post basically stated that Jonas responded to one of Miley's posts. She captioned the image as, "That moment when even your ex knows your socials have been 🔥🔥🔥🔥🔥🔥🔥🔥" Well, somebody has been going through their past journal quite a lot!