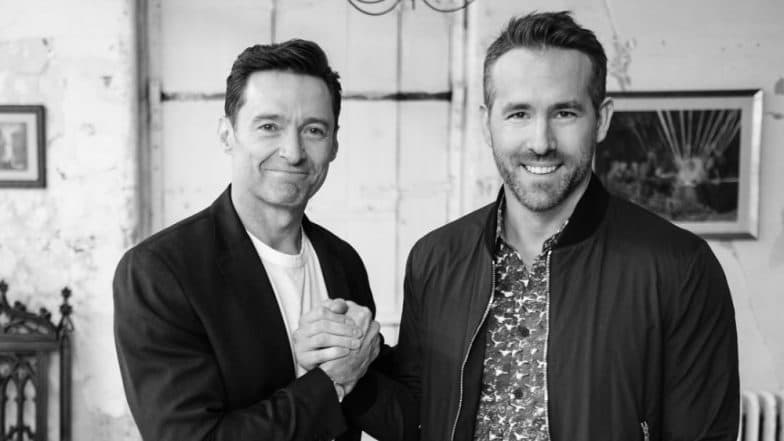 Ryan Reynolds has been pestering Hugh Jackman for a Wolverine-Deadpool cross over for as long as anybody can remember. In fact, he took several shades at Wolverine too in both his R-rated Deadpool films. Well, Jackman, tired of his dogging nature even stated in several interviews that Logan is dead and there is no way a crossover can happen. But turns out they decided to put these petty squabbles behind them and work together for an ad film! But poor Reynolds didn't know that Jackman is still not over it!
In a new ad film for Aviation Gin, Ryan and Hugh did a short video where he is seen introducing them, "Hi everyone, Ryan and I recently called a truce in our social media war, and we promised to make ads for each other." Reynolds chimed in "I've been working 24/7 on an ad for Hugh's incredible coffee company, Laughing Man. And he's been working hard, 24/7 I imagine, on an Aviation Gin ad, so I'm gonna go first. Let's roll it."
View this post on Instagram
The scene then shifted to the ad film where the Deadpool actor, narrates, "Can a cup of coffee be a superhero?" he asks. "'Cause Laughing Man beans are born with a special power. Sure, it's the best-tasting coffee on the market. Yeah, it awakens your senses with unbelievable flavour. But it also lifts up communities around the world in the form of housing and scholarships and Hugh could be behind such a heroic company? Hugh guessed it. My friend, Hugh Jackman, the loving and caring man who created Laughing Man. Make every cup count."
The ad continues and shifts to Jackman's face, who seems shocked to the core. He tells Reynolds, "Wow. Man, that was really professional." The scene then shifts to what Jackman put up in his ad film, which is as unexpected for Reynolds ass it is for anyone else. The video has Jackman sit tall and declare, "Ryan Reynolds is a complete and total f**king a**hole," while holding the gin. He then concludes, "Gin's pretty great though, I'll have to try it someday." The commercial ends and Jackman instantly turns to Reynolds to apologise, "Sorry, man, I didn't think the truce was actually real." But all Reynolds does is sit in silence with a pained look plastered across his face.