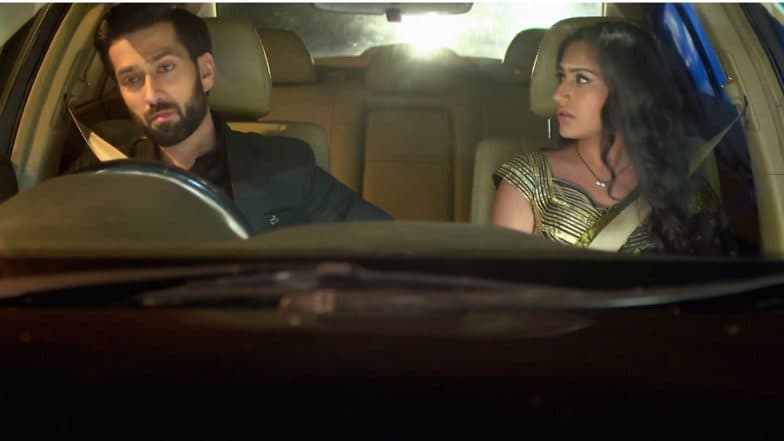 Today's episode of Ishqbaaz starts with Shivaay (Nakuul Mehta) getting a call from cops. He's shocked on seeing him, Anika (Surbhi Chandna) asks what's the matter. He tells her that  police have arrested Sahil. At the police station Sahil  is telling the cops that they will face consequences for arresting Shivaay Singh Oberoi's brother-in-law. Anika and Shivaay come to the police station and see Sahil misbehaving and asks the police inspector what has he done. He informs them that Sahil was drinking and driving. Shivaay gets furious on hearing this and gets really angry. Both Anika and Shivaay reprimand Sahil for his misbehaviour and ask the police to keep him the lockup so that he learns his lesson.
While driving back Shivaay feels guilty for punishing Sahil and tells Anika let's go  back and bail him out. But Anika feels that Sahil should repent his wrong doing. Shivaay calls the police officer and tells him that he is just a child and requests him to take care of him. Anika  asks him about Dadi. Shivaay tells her let us go home and I will tell you.
Next day morning while Dadi is watering the plants when Rudra comes  beside and excercises. He tries to keep an eye on her. He sees that Omkara and Shivaay are also there. They see Suryakant coming and singing song, Dadi tells him she can't come to the park as it is not right. He tries to make her understand that life has given them a second chance and tells her let us take advantage of it.  While talking, Dadi continues to water the side of the garden where the three brothers are hiding. Shivaay asks Omkara and Rudra to not move as they will come to know we are here.
Dadi  tells Suryakant that she has broken his heart earlier and she doesn't want him to have any misunderstandings. She tells him that she still loves her husband and no one can take his place in her life. Dadi tells Suryakant that she has taught the same to her grandchildren too. All three of them stand up and tell Dadi to stop pouring water on them. She is shocked to see them and asks them what were they doing there? They tell her that they were searching for theirr Dadi. Suryakant on finding out that there;s no way that he will get his love again bids the Oberoi family good bye. He handed over a diary regarding  Shivaay's Dadaji, which will be useful for them when they make his biography.  All of them ask him to stay for a few more days, but he refuses, however he tells Dadi that he will come again soon.
Just then Jai comes and asks about Suryakant, they say he just left. Rudra asks him where was he yesterday and he informs then that he had an urgent meeting so he had to rush. He congratulates everyone, Priyanka asks him to eat something. but he says he will eat in the office and leaves from there.  Shivaay tells the inspector to leave Sahil from the lockup. The inspector orders to bail Sahil. Inspector tells Sahil to not to repeat what he did. Sahil thinks Shivaay's brother was a gambler, sister  ran and married a guy he didn't tell anything to them but he refused to bail him out . Anika gets very angry and shouts at him but Shivaay tells her he will take care of Sahil from now and asks her not to worry. Sahil agrees and says sorry to Anika. But vows to take revenge from Shivaay.
Rudra and Omkara are talking to each other when the ladies come and ask them what are they discussing.  They say we will tell you our secrets but don't spread it, keep it to yourself. Shivaay and Anika are in a romantic mood and he buys her a gift, she becomes very happy and gets emotional. Shivaay says we will get peace in any situation in life and they say 'I love you' to each other.  Rudra comes suddenly and tells them to close the door before indulging in such romantic acts.  Shivaay does not want to go, but Rudra asks him to come along because some important work has come up.