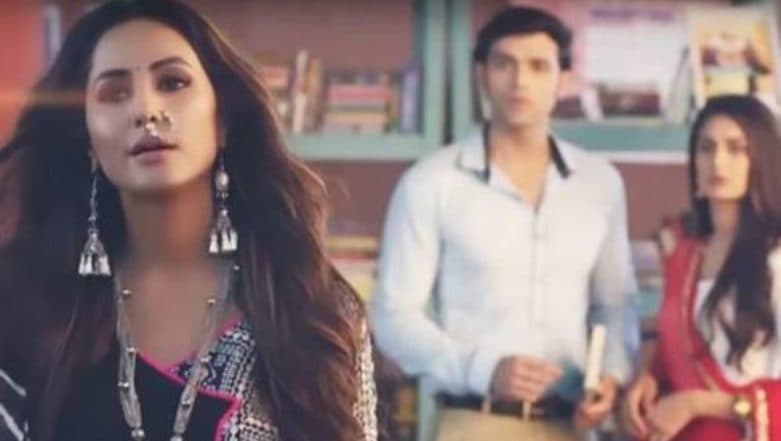 Today's episode of Kasautii Zindagii Kay 2 starts with Prerna (Erica Fernandes) telling Komolika (Hina Khan) that Anurag (Parth Samthaan) was with him inside the changing room and tells her that Anurag told that he still loves her and want to come out of this mess. Komolika gets angry with her and tells her to go out. Prerna tries to provoke Komolika so that she goes out of Anurag's life, Komolika throws her out of the room. There Ronit goes inside Shivani's house with a gun, his friend tells him to calm down but he does not listens and goes inside. There Prerna is cooking something in the kitchen, Anurag comes and tell her not to provoke Komolika as she will destroy her life. Kasautii Zindagii Kay 2 Actress Hina Khan Deletes Her TikTok Account, Here's Why – Watch Video
Anurag tells her that he cares for her and does not want Komolika to give any pain to her (tere bina jina na pawunga track is played in the background). Prerna is confused as for whether Anurag loves her or is just acting. Meanwhile Komolika flashbacks all that Prerna has told and says she will burn the whole house. There Prerna gets angry and tells Anurag whenever he will tell Komolika that he loves her, she will tell her that he does not love her and create so much doubt that she will not believe him.
Prerna Seeing Mohini tense, tells her to calm down and she will take care of all the household chores and tells the maid to ask her if he has any doubts. Mohini is angry and tells Komolika that Prerna is crossing her limits and that she cannot accept this and that they have to do something to control her. Komolika tells her to relax and that some friends of her are coming and let us enjoy for the moment. Just then the doorbell rings, Komolika tells Mohini to open the door to see who has come. Kasautii Zindagii Kay 2 April 11, 2019 Written Update Full Episode: Cops Arrest Prerna
Just as Mohini opens the door, the police come to arrest Prerna, Mohini tells them to come in. Anurag watches from upstairs and thinks what is going on. Prerna asks for the reason as for why are they want to arrest her, the police says for harassing Mrs. Anurag Basu, Prerna says that she herself is Mrs. Anurag Basu. But Komolika makes the police understand that she is the real Mrs. Basu and shows the confession letter which Prerna has signed and tells them to take her away. Anurag thinks if he helps Prerna now then Komolika will get angrier and that he does not want.
Komolika goes near Prerna and tells that this all her father has done and even Anurag cannot help her now. The police officer tells Prerna that she has to come with him as all the proof are against her, just then Anupam comes and asks whether he has a warrant to arrest Prerna. The police say he has and shows it to Anupam. The officer arrest Prerna, she sees Anurag for help, Anurag comes down and tells that no one can take Prerna from here as she is his wife. In the precap, As the police take Prerna she tells Anurag that once again he betray her and that she will not leave him now.