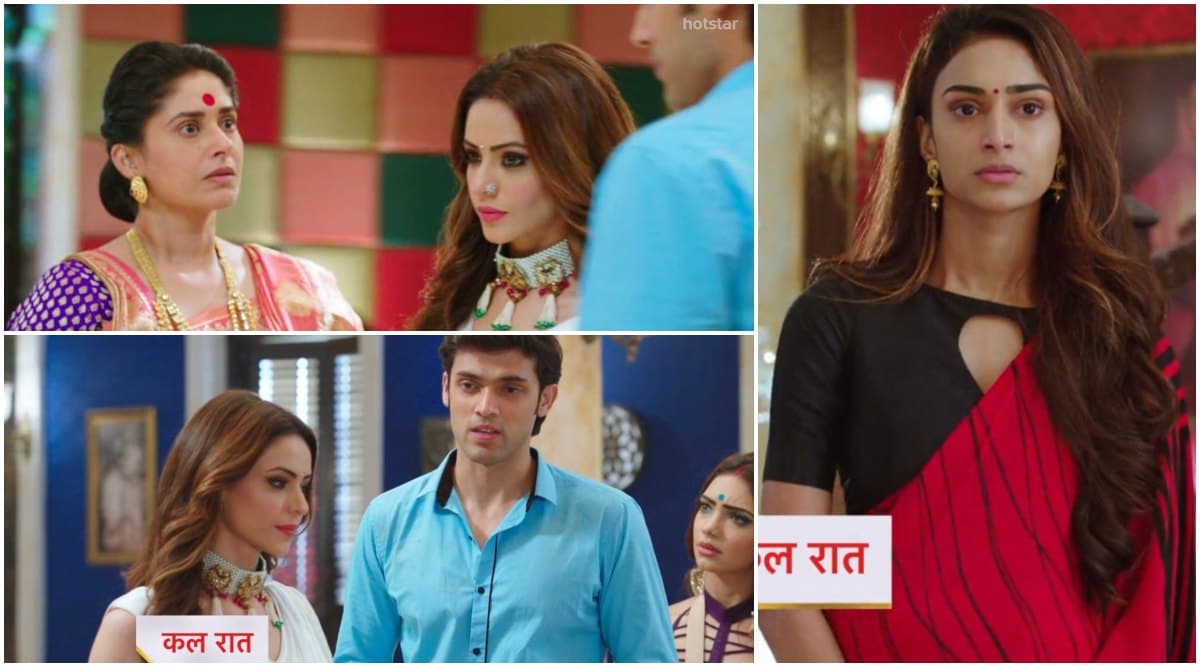 In yesterday's episode of Kasautii Zindagii Kay 2 we saw Komolika is shocked to learn that Prerna is Anurag's new secretary. Meanwhile, Anurag confronts Prerna when he discovers an unexpected truth from his past. Tonight's episode starts with Komolika (Aamna Sharif) calls Ashish to come to her cabin.  Komolika tells Ashish that she wants Prerna (Erica Fernandes) thrown out from the office, Ashish says she herself wants to leave this company but Komolika says she wants to humiliate her and throw her out of the office. Ashish tells her that they can blame her for stealing the official documents from the office and get her arrested. Komolika is pleased with Ashish's idea. Kasautii Zindagii Kay 2 November 12, 2019 Written Update Full Episode: Komolika Gets Upset on Finding Out That Prerna Is Anurag's Secretary.
Later Ashish calls all his staff and asks who has taken the official paper from his table, he blames the receptionist. Just then Anurag (Parth Samthaan) comes to ask what is going on, Ashish tells him what all happened and tells that the police is going to come soon. Anurag chides Ashish and tells him to stop the police from coming into the office. Just then the police comes, Ashish tells about the stolen papers and says the culprit may be either the receptionist or Prerna Sharma, as she also wanted to resign from the office. The police start searching for the papers in the office. Kasautii Zindagii Kay 2 November 11,2019 Written Update Full Episode: While Komolika Tricks Anurag to Steal Romantic Moments, Prerna Gets Locked With Him in a Storeroom.
Later,  the papers are found in Prerna's bag by one of the constables, the police tell her she has to come with them to the police station. Prerna says she has not done even Anurag defends her and says she is innocent and they should not take her but the police say they have to take her and do the investigation. Prerna tells Anurag that no one from her family should come to know about this, Anurag assures her that he will prove her innocence and she will reach home before dinner. Anurag gets enraged and fires Ashish from the job.
On the other side, Anurag is tensed as Prerna will never do anything like this and says someone is there behind her who wants to destroy her and vows to find out who is it.  Anurag says he has to save Prerna. Meanwhile, the receptionist tells Anurag about Ashish's behavior towards Prerna and how he used to torture her and wanted to remove her from the office.
Later Anurag goes to Ashish cabin and asks her what problem he had with Prerna and why he wanted her out of the office. Anurag asks did he keep the papers in her bag and says he trusts Prerna and knows she will never do this kind of thing. Anurag tells Ashish to show him the CCTV footage so that he can catch the real culprit.  Later when he sees the CCTV footage he comes to know that someone kept the papers inside Prerna's bag, he tells the staff to get a CD of the footage and he will go to the police station and show it to the concern officer and release Prerna.
 Meanwhile, Ashish is tensed as if Anurag comes to know that he has done it then he will put him behind bars, he thinks that if he is caught then he will reveal that Anurag's wife told him to do this all. On the other side, Anurag goes to the police station with the CD and tells the officer to watch it and tells him that Prerna is innocent. In the precap, Komolika plays Sindoor Khela ceremony with Mohini and all the ladies. Later Anurag brings Prerna home and tells all that she is his personnel secretary from now.