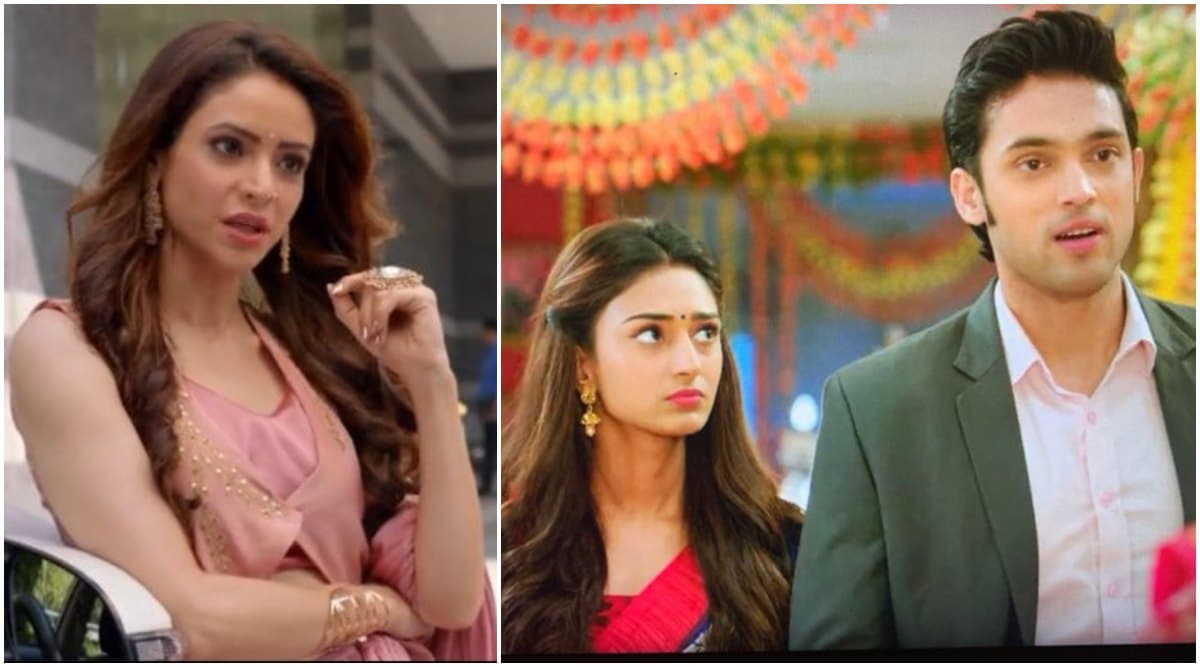 In yesterday's episode of Kasautii Zindagii Kay 2, Prerna feels jealous when Sonalika tries to get close to Anurag. She also gets suspicious of Sonalika and can't help noticing similarities between Anurag's new wife and Komolika. In tonight's episode, we see Anurag (Parth Samthaan) reprimand Prerna (Erica Fernandes) for not taking care of her unborn child and orders her to go home and rest. Sonalika (Aamna Sharif) gets upset on seeing Anurag's concern for Prerna. Prerna, on the other hand, is happy to see Anurag's concern for her and her unborn child. Prerna finds Sonalika fishy as she behaves differently when Anurag is around. Kasautii Zindagii Kay 2 November 19, 2019 Written Update Full Episode: Komolika Aka Sonalika Accuses Prerna of Sabotaging Her Special Night With Anurag
Later, when Sonalika comes in the bedroom, Anurag tells her to be extra careful when Prerna is around. Sonalika pretends to be unaware when Anurag narrates to her about how Prerna was about to fall. Anurag gets disturbed and goes out to get some fresh air. Sonalika gets irritated on seeing Anurag care so much for Prerna and decides to do something soon about the unborn kid.
Next morning in the Sharma house, Anurag calls Prerna and apologies for his behaviour. He tells her that he shouldn't have been rude, but also confesses how he feels responsible for her well-being. Prerna thanks Anurag for his concern and she understands his feelings protective about her child. Sonalika overhears them talking and gets angry, she feels threatened by Prerna's unborn child and feels that it could push Anurag away from her again.
Prerna tells Shivani about how Anurag came to her rescue and protected her from falling. While narrating the episode she recollects what had unfolded and remembers that it was Sonalika who attempted to hurt her. Shivani is shocked to know about Sonalika. Shivani tries to get information on Sonalika and makes a fake call to her pretending to be a bank employee.
She asks for her personal information, but the latter refuses to divulge any information and calls Shivani fraud. After speaking with Sonalika, Shivani also finds her similar to Komolika. Just then Shivani gets a call from her friend Vishal who invites her for his sangeet function. Shivani confirms that she and Prerna will attend the function. Kasautii Zindagii Kay 2: Mr Bajaj To Be Reintroduced, Will It Be Karan Singh Grover Or Someone Else?
At the sangeet, Shivani reaches the venue with Prerna, while Mohini arrives with Sonalika who is furious on seeing Anurag's ex-lover. Anurag, however, is happy to see Prerna and is all smiles. Shivani spots Sonalika and decides to find out if she's indeed Komolika. Anurag sends a chair for Prerna to sit so that she is comfortable, Anurag asks Shivani to take care of Prerna, Sonalika comes to take Anurag to the dance floor.
Prerna watches Anurag dance with Sonalika (Aaj phir tum peh pyaar aaya hai track plays in the background). Shivani tells Prerna that she will keep an eye on Sonalika to find out the truth. In the precap, Sonalika tells Ronit that she wants to kill Prerna and her unborn child, Shivani overhears them and comes to know that Sonalika is indeed Komolika. Stay tuned!