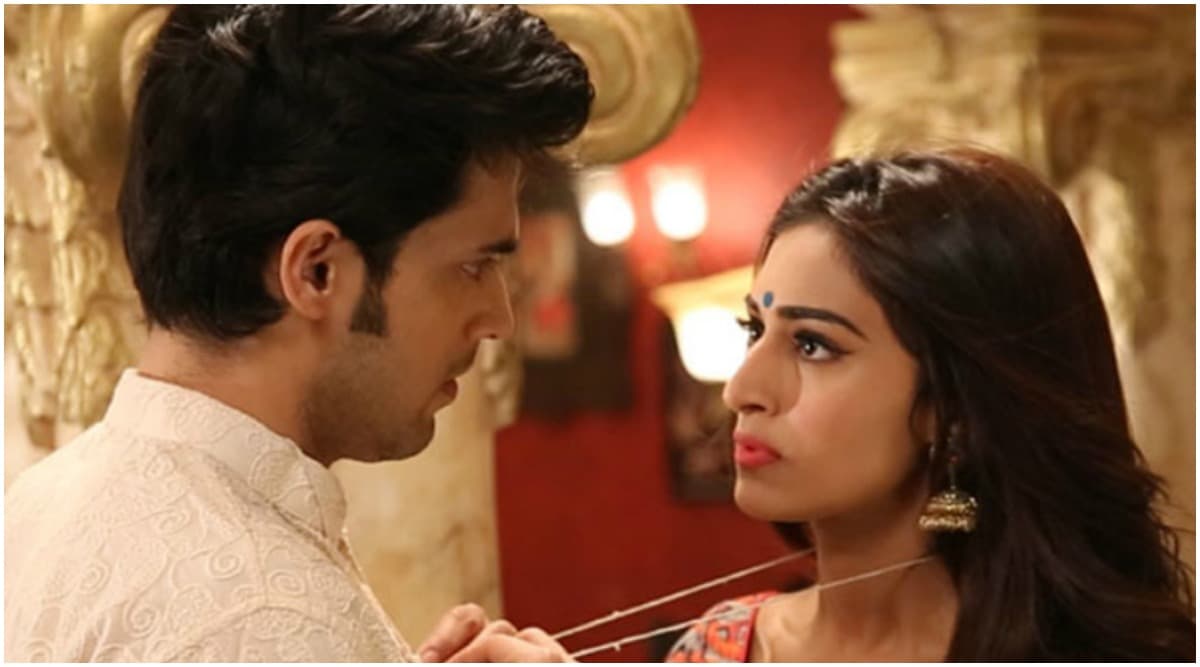 In yesterday's episode of Kasautii Zindagii Kay 2 we saw Anurag feels uncomfortable when Komolika hugs him while Prerna decides to take up a new job. Laer, the Sharma's gear up to renovate their old house. Tonight's episode starts with Anurag (Parth Samthaan) going to office in his car and enjoys music (Mitwa kahe dadkhaney mujhsey kya track plays in the background), the car stops in the signal, just then Prerna (Erica Fernandes) crosses his car, Anurag sees her from the back and feels something and goes behind her but Prerna goes into a cab. Kasautii Zindagii Kay 2 November 6, 2019 Written Update Full Episode: Prerna Encourages Sharma to Renovate Their Old House to Start Afresh
On the other side, Nivedita takes out her jewelry to gift it to Komolika (Aamna Sheriff), Anupam asks for why she is gifting, Nivedita says she made Anurag so happy and that is why she feels like gifting something from her side. Meanwhile, Prerna reports to the office and gets happy as she got appointed for the job. Kasautii Zindagii Kay 2 Actress Erica Fernandes Captures Herself in Singapore but Her Weirdly Long Legs Are Distracting (View Pic)
On the other side, Anurag comes to the office and asks his colleague does he know what happened in these two years which he does not remember, just then Moloy comes there and tells Anurag that his new office is ready and he can start afresh from today. Anurag is happy and thanks to him. The company name is "Star and Kings Media Cooperation" which he is going to take over.
Meanwhile, Prerna tells Shivani and Veena that she got the job in "Star and Kings Media Cooperation' as a secretary. They are happy as she got the job but tells her to take care of her health. Later, Prerna reminisces Rajesh as she misses him and says she got the job and is happy as all are happy in the family. Veena comes there and says if Rajesh was alive then he would be more proud of her and says she is happy as Prerna is happy without Anurag in her life and has carried on in her life.
On the other side, Anurag and Moloy go to meet the owner of the company and keep an offer in front of him as they want to buy the company and promise that they will make it a success and tells him that he can be a partner in it, he agrees to their terms and signs the papers. Meanwhile, in Basu house, Komolika thinks about Anurag and plans how to bring him closer to her. Kasautii Zindagii Kay 2 November 5, 2019 Written Update Full Episode: Komolika Plots to Separate Prerna from Anurag's Life
Later, Moloy is impressed with Anurag's confidence and is proud of him. They both have a good time with each other. Next day morning, Prerna reaches her new office, the owner of the company comes and announces that their company is taken over by a new owner and tells all to welcome the new boss. The owner tells Prerna that she will be the secretary of the new boss. Meanwhile as Anurag leaves for his work, Mohini blesses him and gives him sweet so that his new venture will be a success. In the precap, Prerna is shocked to see Anurag in the same office where she has joined.