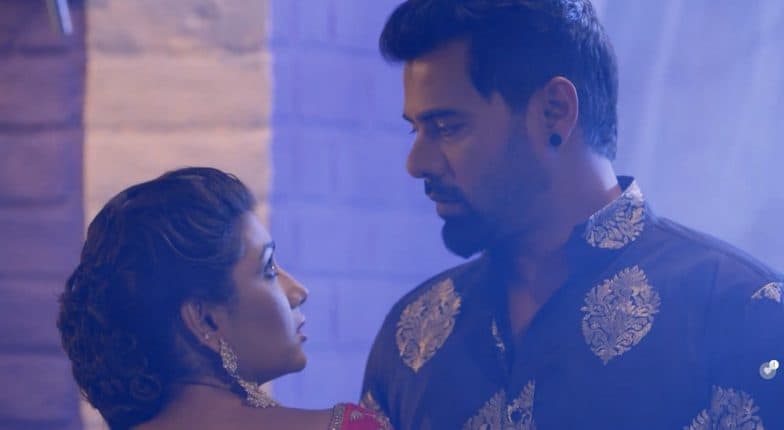 Today's episode of Kumkum Bhagya starts with Shahana telling Prachi that she gave a good reply to Rhea's poster. When Prachi hears that Shahana put stickers on Rhea's car she gets angry at Shahana. However Shahana vents her feelings telling Prachi that she also just wants to come to Delhi and study, but if people keep messing with them she can't keep quiet. Rhea's friends notice Prachi and Shahana talking.
Just then, a new student proposes to one of Rhea's friends who is already in a relationship. Rhea tells the boy to kiss Prachi, if he wants her friend to say yes to him. The boy agrees and goes up to Prachi, giving her a kiss. Prachi is shocked and slaps the boy threatening to take him to jail. The boy panics and tells Prachi that Rhea asked him to do that. Prachi goes up to Rhea and slaps her too. She scold Prachi by telling her to consider others feelings before doing anything.
Pragya (Sriti Jha) who is on the way home from the temple can't stop thinking about Abhi (Shabir Ahluwalia). She is scared of running into Abhi again. Pragya thinks of taking Prachi and Shahana and leave Delhi forever. Abhi meanwhile, tries to tell Daadi that Pragya was not to be found anywhere and she is mistaken.
Daadi doesn't believe Abhi she keeps repeating what happened at the temple over and over. Abhi gets irritated at her and leaves. When Abhi and Pragya are alone in their rooms they think about each other. Every time they think their lives are coming back to normal something comes up about the other which again makes them think about the past. Abhi and Pragya both wish to be gone from each others life, but they still want to meet their kids.