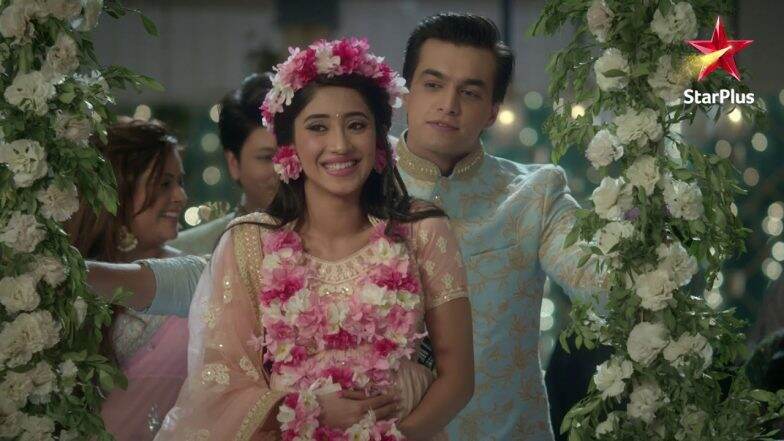 Today's episode of Yeh Rishta Kya Kehlata Hai starts with Naira (Shivangi Joshi)shouting and telling all the students in the college as for why are they teasing her and that they should at least help her in this situation. Kartik(Mohsin Khan) is impressed with her talk and confidence. The peon comes and tells everyone that exam is going to start and all should go inside the classroom. Kartik wishes Naira all the best and tells her to go in. Some students come and say sorry to Naira and tell Kartik that he is very cute. Kartik tells Naira to write her exam fast and come so that they can attend the baby shower. Just then Kartik gets Suhasini's call and she enquires when they are coming home, Kartik tells Suhasini that they are in the temple and very soon they will reach home. Yeh Rishta Kya Kehlata Hai January 4, 2019 Written Update Full Episode: Will Naira Make It on Time for Her Baby Shower?
Kirti is talking to Naksh and tells him that she is fine and the baby is also fine. Kirti misses Naksh but tries not to get sad. Again Suhasini calls Kartik and asks him why are they so late and tells them to come fast. Suhasini hears some girls talking and enquires who are they, Kartik tells lies that they are some girls around here in the temple. Naira comes out with the Ma'am, Kartik asks the reason and comes to know that Naira has to go to the bathroom but the ma'am is not ready to send her in between the exam as it is against the rule. Kartik tries to make the ma'am understand but she refuses. Just then again Suhasini calls.
Kirti is getting ready, Manish comes and wishes her all the best and tells that she is looking so pretty. Manish tells Kirti that Suhasini had sent Swarna out for some work so she will come a little late and that he will help her in getting ready. Naira is upset that she could not complete the full paper but Kartik tells her that it is ok she has completed 70% paper and that is enough. Naira gets hiccups and Kartik goes to get water from his car, just then some girls come and talk to him and take selfies. Naira gets angry and jealous seeing this all, Kartik tells that she is looking cute when she is angry.
Suhasini is waiting and getting impatient and asks Kaveri where are Kartik and Naira as she had called the pandit and came to know that it is closed for some work, just then Naira and Kartik comes and give Suhasini Prasad of the temple and tell Suhasini that the other half of the temple was opened. Suhasini tells Naira to get ready for the function, she goes up and gets ready. Naira gets ready and asks her baby as to how she is looking, just then Kartik comes and admires her and says so cute. Kartik gets a call and goes from there. Naira feels upset as she feels Kartik has changed and that his response was not so good on seeing her dressed up.
The celebrations begin of a baby shower (Yeh Rishta Kya Kehlata Hai track is played in the background) Naira and Kirti and sitting in the middle and all come and bless them both. All are enjoying the baby shower. Luv and kush ask about the rituals of the baby shower. Bhabhi Maa explains the kids about the function. The ladies tell all the male members to go out so that they continue the rituals. Kartik tells he wants to see all the function and request Naira to allow him to attend it. In the precap, the baby shower continues and all enjoy.