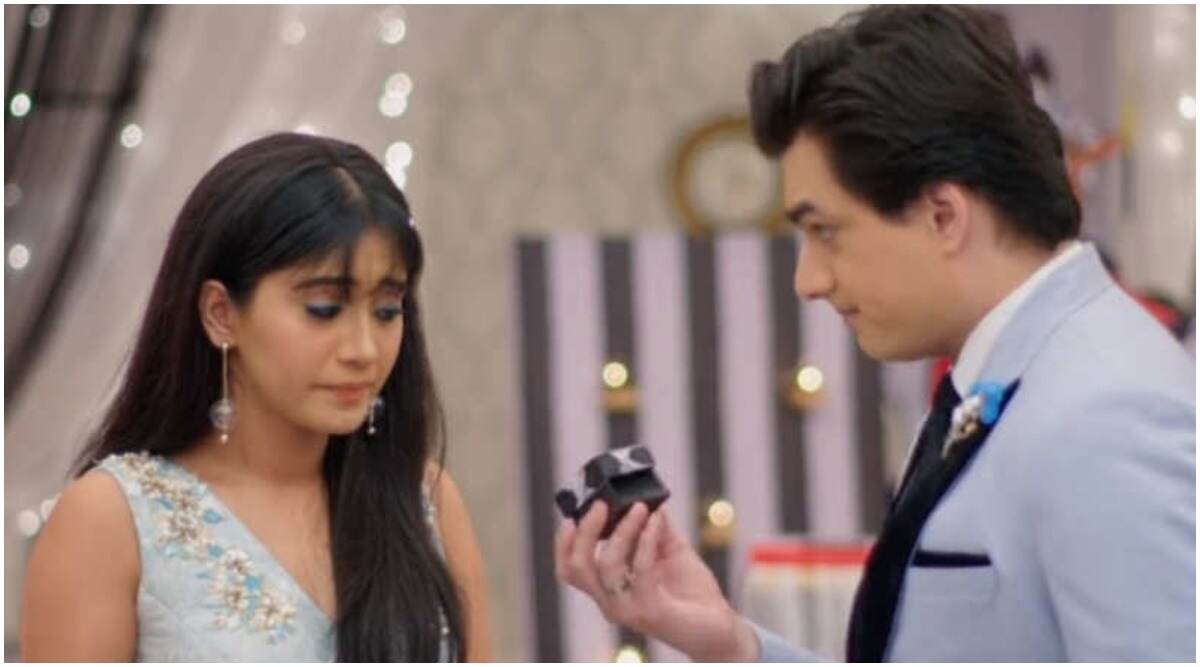 In yesterday's episode of Yeh Rishta Kya Kehlata Hai we saw that Naira is taken aback at Suhasini's strange request. Later, a heartbroken Kartik regrets his actions and asks Naira to go back to Goa with Kairav. Tonight's episode starts with Naira (Shivangi Joshi) telling Kairav that they are leaving for Goa and asks him to get ready. On the other side, Kartik (Mohsin Khan) is disturbed as Naira and Kairav are going back ("yeh moh moh khe daage" track plays in the background), he gets a message from Naira that they are leaving for the airport. Meanwhile, Naira gets emotional when they leave the house. Yeh Rishta Kya Kehlata Hai November 4, 2019 Written Update Full Episode: Kartik Tells Naira to Go Back to GOA with Kairav
Later, Kartik thinks at least for once he wants to see Kairav and leaves the house, he sees them on the way and returns. Kartik comes back home to see Kairav there and is shocked and happy at the same time. Naira tells Kartik that it took a little effort but later Kairav agreed to come back. She also tells him they are not going to Goa and narrates what all happened. The Goenkas are happy to see them back. Naira tells that she will stay with them until the misunderstanding between them is over.
Meanwhile, Vansh asks Kairav is he not angry with his father. Kairav says he is still angry with him and he's back because Naira told him to. Kartik and Naira watch them. Naira encourages Kartik that they should try their best to clarify the misunderstandings. She asks him to not lose hope and that they will succeed. Kartik gets emotional and starts crying. Yeh Rishta Kya Kehlata Hai's Shivangi Joshi Stuns in Her Latest Photoshoot and Fans Can't Stop Gushing Over Her (View Pics)
On the other side, Naksh tries calling Vedika but she is not picking up the phone, Kaveri says Naira also tried her number as she wanted to herself tell her before anyone else to clear the matter. Naksh says even if the call gets connected then too will she understand Naira's problem as she was the one who wanted the divorce between Kartik and Naira but all the blame came on Naira.
Meanwhile, in the Goenka house, they remove Vedika and Kartik's photo and replace it with Kartik and Naira's photo so that Kairav does not get disturbed. Manish tells, we will all try our best but Kartik has to work on it so that his relationship with Kairav improves. Later, Naira tells Kartik that they will play a game and involve Kairav in it, just then Pallavi comes and asks Kartik where is his wife as she is not picking up the phone.
Kairav is shocked to hear this but Kartik and Naira change the topic and tries to make her understand that in front of Kairav she should not say this all. Later Pallavi taunts Kartik that instead of searching where Vedika is they are enjoying each other's company and leaves. Naira gets disturbed. In the precap, all the family plays a game so that Kairav comes close to Kartik.