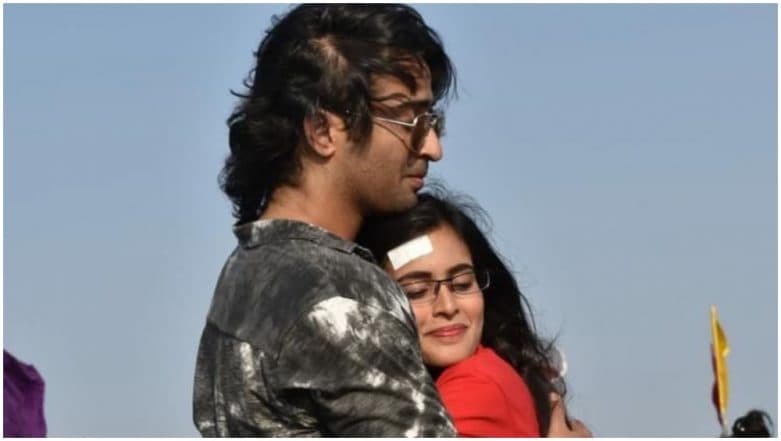 Today's episode of Yeh Rishtey Hain Pyaar Ke starts with Mishti (Rhea Sharma) telling that she is also ready for the tilak function and hugs Meenakshi, all are happy hearing this. Mishti sees Rajshree is so happy because of her decision but she thinks she wanted some more time to decide. Abir (Shaheer Sheikh) goes from there, Mishti goes behind him, Abir gives her new specs, she feels very emotional as no one even bothered to get new specs and he brought it. Abir asks her is she is happy with the decision, Mishti says yes. There Kunal takes an appointment with the eye doctor to get Mishti's laser treatment.
There Meenakshi tells everyone in the family that within two days Kunal's tilak function is there, all are happy. Just then Kunal comes and asks if she is angry as without asking her he took the decision, Meenakshi says he took the correct decision and tells him to prepare for the function. Parul wonders why Meenakshi is so happy. There as Abir comes to his room, he sees Mishti's photo all around his room and wonders who kept it, just then dadaji asks him did he like it and why has he kept this all photos and a portrait of her, Abir says that he will do his next exhibition with all this photo and get reimbursed for the loss which he had because of last exhibition. Dadaji thinks even if Abir is not saying now the truth he will make him say it before the tilak function.
Kuhu thinks about Kunal and is upset as to why he agreed for the marriage with Mishti. Kuhu thinks Mishti takes everything that she has. Kuhu in anger throws the bracelet which Kunal has gifted her. Mishti sees from above and wonders whom is she talking with and comes down to see it. When Mishti comes down she does not find Kuhu there and sees the bracelet which is lying there and wonder why she threw it.
In the precap, Kunal brings Mishti to the hospital to get her laser treatment, Abir says she does not want it but Mishti tells him to mind his own business. There dadaji asks Abir does he love Mishti, he says yes, just then Kunal comes there.