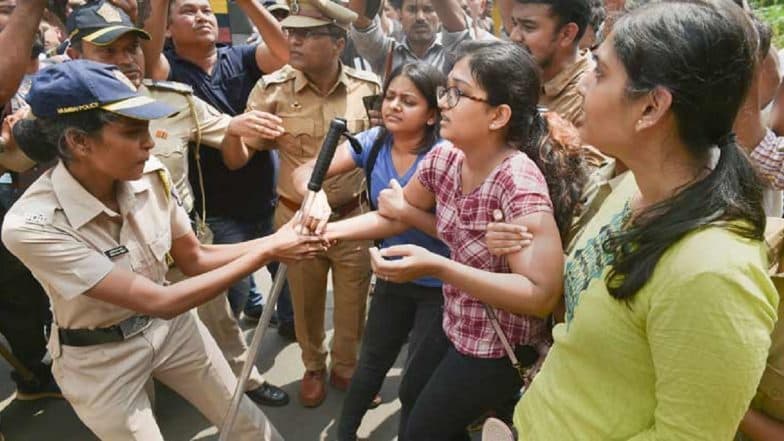 Mumbai, October 7: The bail amount of the 29 protestors arrested during protests held against the Aarey tree felling, was paid through crowdfunding, reported The Times of India. The amount of bail for each activist arrested was Rs 7,000 and the entire amount was raised via crowdfunding, said the report. A group named "Our Democracy", started an online funding programme to arrange for the bail amount of the protestors. Aarey Colony Row: Bail Granted to 29 Activists Arrested For Protesting Against Felling of Trees.
The total amount raised was Rs 2.3 lakh. The amount will be given to the families of the protestors, so that their amount can be reimbursed, reported TOI. Aarey Tree Felling: Supreme Court to Hear Case Today, Converts Letter Sent by Students Into PIL.
The Supreme Court has also taken suo moto cognizance of the axing of trees in North Mumbai's Aarey colony and has constituted a Special Bench to hear the matter on Monday. A notice was posted on the apex court's website, stating that the case would be heard on Monday morning at 10:00 am. The Special Bench will be constituted for the hearing as the judges are on leave from October 7-12 to mark the Dussehra holidays.
The top court's intervention came hours after a delegation of students dispatched a letter to the Chief Justice of India, Ranjan Gogoi, seeking his immediate attention towards the massive felling of trees underway in Aarey Colony -- the "sole green lung" of Mumbai city. On Friday night, protests broke out after videos surfaced on social media websites showing trees in Aarey being felled hours after the Bombay High Court quashed the petitions of Aarey activists. The Court's judgment was based on its observation that Aarey could not be called a forest.