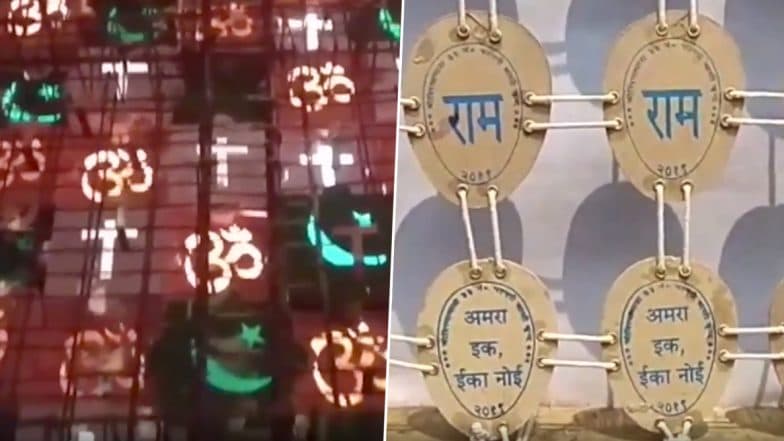 Kolkata, October 7: The organisers of a "secular" Durga Puja in Kolkata have landed in a soup after a video of them allegedly playing a recording of Azan (Muslim call for prayers) at the pandal surfaced on social media. Santanu Singha, a Calcutta High Court lawyer, on Friday, filed a complaint against 10 people, including Trinamool Congress leader Paresh Paul, asserting that "religious sentiments had been hurt". Kolkata: Durga Puja Pandal Showcases 'Balakot Airstrike' Themed Tableau.
The Beliaghata 33 Pally Durga Puja pandal is set up on the theme "Amra ek, eka noye" (we are together not alone) to promote communal harmony. According to Singha, the organisers intentionally tried to "disturb the peace and tranquillity in the state" by playing a video of the Azaan during the puja. He said that he recieved a video of Azan being played during the Puja from Vishwa Hindu Parishad (VHP). Durga Puja Pandal Decorated with Over 4,000 Letterboxes, Computer Mouse in Kolkata.
"The said video categorically show that Azan is being played in the Durga Puja Pandal and as such it has hit the sentiments of the Hindu religion and against the rules of the Society," reads the complaint sent by Singha to the local Phoolbagan police station. The organisers, however, said that they played a video with audios depicting Hinduism, Islam and Christianity, refuting reports that Azaan was played during the puja.
#WATCH | Durga Puja pandal in Kolkata set up on the theme of religious unity pic.twitter.com/XJgVaGbsPV

— The Indian Express (@IndianExpress) October 6, 2019
"Some people have conveniently ignored the Hinduism- and Christian-related messages and are creating controversy over a message in Urdu. It is not true and completely fake that Azaan is being played during Maa Durga Puja," Parimal Dey, Club Secretary of Beliaghata 33 pally, was quoted by The Indian Express as saying. The police have so far remained silent on the issue.