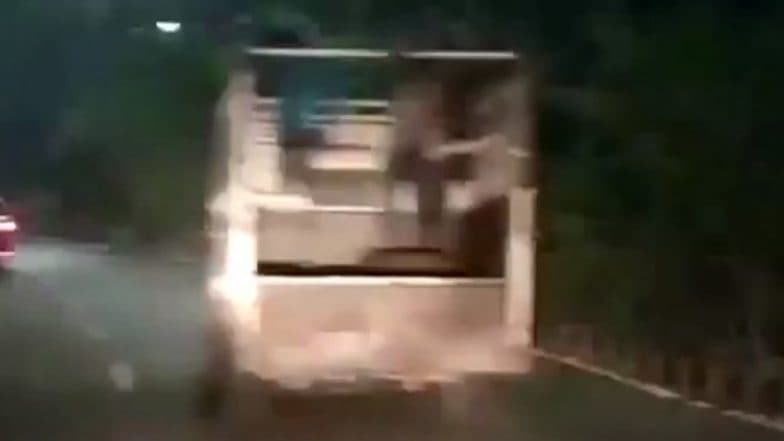 Delhi, October 10: A Bajrang Dal activist got injured in Gurugram near Delhi on Thursday when suspected cattle smugglers opened fire at a group of cow vigilantes, who were chasing them. Monu Manesar sustained bullet injuries in his chest and is recovering at Medanta hospital in Sector 38. The incident took place at Millennium City near Delhi when the victim and other cow vigilantes were chasing a truck, allegedly used by cow smugglers. Mob Violence in Rajasthan: Youth Beaten Up by People in Alwar For Allegedly Smuggling Cows; FIR Registered.
Deputy Commissioner of Police (DCP) Gurugram, Rajeev Deshwal said when the suspected cow smugglers realised that they were being chased, they offloaded cows from the mini truck and sped off. "Then they opened fire, in which Mohit -- a resident of Manesar and a member of Gau Rakshak Sangathan -- was injured," he added.
According to police, six accused has been identified. A search operation has been initiated to catch them. The truck, which was used by the suspected smugglers, has been recovered from Haryana's Mewat. Haryana Shocker: Dalit Boy Thrashed by 'Upper Caste' Men in Sonepat for Washing Cattle in Their Pond, Police Arrest Accused After Video Goes Viral.
As the news of injured cow vigilante spread, a large number of Hindu activists assembled outside the hospital. Meanwhile, this is the second incident of violence in the past week. Earlier, a cattle smugglers transporting 12 cows fired at two cow vigilantes in Rajasthan's Alwar.