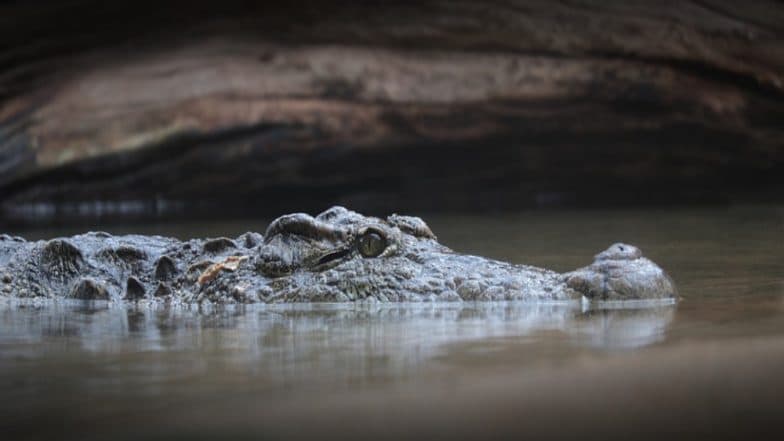 Mumbai, September 11: Powai Lake in Mumbai is a well-known spot for Ganesh idol visarjan during the ongoing festival of Ganeshotsav. However, people who recently headed to this spot for visarjan experienced a fright, when a crocodile showed up. This lake is known for having crocodiles in there and the reptile showed up while some people were performing the Ganesh visarjan. A video of the same has also been released online. Mumbai: Stray Cow Takes a Stroll in IIT-Bombay Lecture Hall (Watch Video).
As per Zee 24 Taas, the incident occurred late at night when devotees had gathered for the visarjan. Thankfully, no one was inside the waterbody at the time. The report also states that each year the authorities ensure care is taken so that there are no reptiles coming in around the visarjan spot in the lake, but the recent incident shows that there is no guaranteed safety for all the visitors here. Ganpati Visarjan on Anant Chaturdashi 2019: Best Places in Mumbai to See Immersion of Lord Ganesh Idols and Be Part of Colourful Processions.
Watch Video of Crocodile at Powai Lake:
We do not confirm the authenticity of this video.
Powai Lake is a very common spot in the city where Ganesh visarjan takes place every year. Not just the household Ganesh idols, some of the big idols from public pandals are also immersed here. This is also not the first time a crocodile has been spotted at Powai Lake. There have been instances, especially in rainy season in the past when these reptiles have crossed over the surrounding wall and crawled onto the roads.