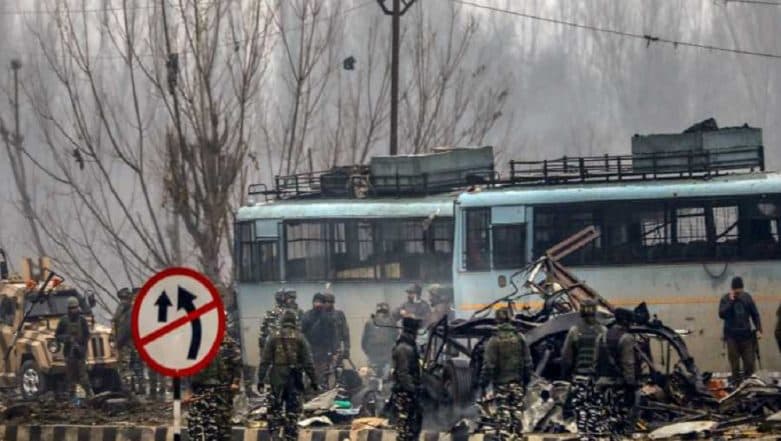 Jammu, April 24: The Indian Army has gunned down nearly 69 terrorists in Jammu and Kashmir in 2019 in a special operation which was launched against Jaish-e-Mohammed (JeM). Indian Army Lieutenant General KJS Dhillon, the General Officer Commanding (GOC) of the Srinagar-based 15 Corps on Wednesday said 69 terrorists have been killed and 12 have been apprehended this year. "Post Pulwama 41 terrorists have been killed and out of them 25 belonged to Jaish-e-Mohammed, 13 of them were Pakistanis", Dhillon was quoted by ANI. According to reports, the Army had launched an operation after the horrific Pulwama attack in February this year, in which 40 CRPF jawans were martyred.
Dhillon further said that the Army targeted Jaish-e-Mohammed (JeM) leadership and the situation now is India is that no one is coming forward to take over the leadership of JeM in the valley. "Even after Pakistan's best efforts, we will continue to suppress JeM, specially after Pulwama", Dhillon added. Suicide Attack Kills 40 CRPF Jawans in Pulwama, JeM Releases Terrorist Aadil Ahmed's Photo Who Carried Out Fidayeen Strike.
According to reports, the security forces and intelligence agencies completely neutralised the terrorists believed to be involved in the Pulwama attack in just one and a half months after the deadly terror attack shook the nation in February this year.
On March 11, KJS Dhillon had informed that in 21 days from the day of the Pulwama attack, the Army had eliminated 18 terrorists, out of them 14 being from JeM, 6 out of 14 were main commanders. JeM's 2nd commander Mudasir-main conspirator in national highway convoy attack-was also eliminated. Pulwama Terror Attack: Here's What We Know So Far About The Suicide Attack That Killed 43 CRPF Jawans in Jammu And Kashmir. 
Earlier in February, the Army had informed that 450 terrorists were operating in Jammu and Kashmir and the terror infrastructure across the Line of Control (LoC) was intact with the full support of Pakistan. According to a PTI report, the Army informed that as many as 16 terrorist camps were operating in the neighbouring country and Pakistan-occupied Kashmir (PoK).