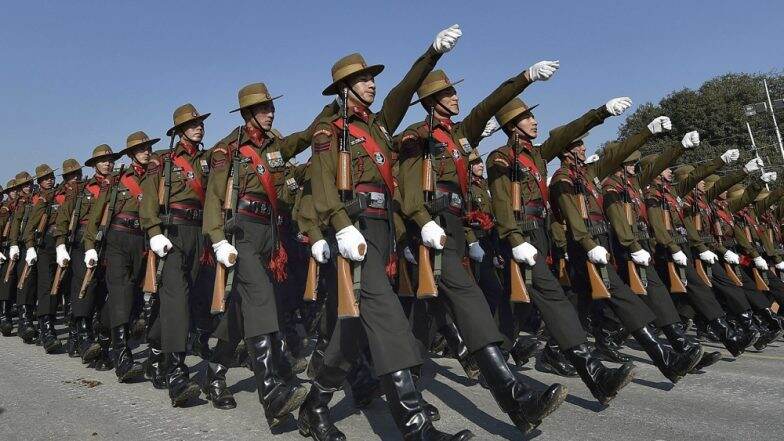 New Delhi, February 6: A  notification of the Defence Ministry stating that it will no longer process travelling and dearness allowance (TA/DA) and advances and claims of the officers faced a backlash from the army officers. The notification was published on February 4. After the notification, Army officers started an uproar on social media, and subsequently, the principal controller of defence accounts (PCDA) removed the information from its website. Army Day 2019 Wishes and Greetings: Send These Quotes, WhatsApp Stickers and SMS Messages to Wish and Honour The Indian Army.
Defence Ministry also clarified on the issue. A Defence Ministry spokesperson said, "Funds in any specific head may fall short momentarily. These are only temporary and resolved routinely through reappropriations as in the instant case." He further added, "The hype created is unnecessary and needs to be avoided by all concerned. The news is baseless." First in History! Indian Army to Command Foreign Army Contingent During UN Peacekeeping Mission.
The February 4 notification, stated, "Due to insufficient funds available under temporary and permanent duty heads of Army officers, no TA/DA advances and claims can be processed till receipt of sufficient funds under the relevant heads." It had also said that facility of Leave Travel Allowance (LTC) would continue. There are currently 42,000 officers in the Indian Army. Around 50 percent of officers are on temporary duty to attend courses at a given time. According to reports, It costs around Rs 4,000 crore per annum to pay for transportation and allowances for officers.
Meanwhile, on February 1, the Narendra Modi government in its interim Budget allocated Rs 3 lakh crore to defence forces. However, it is only 1.45 percent (approx.) to the GDP, which is the lowest since the China war of 1962. Apart from the defence budget, the government also allocated Rs 35,000 crore for One Rank One Pension (OROP). The Union Minister said that the Modi government fulfilled its promise of OROP, which was pending for over 40 years. The Government also announced a substantial hike in the Military Service Pay (MSP) of all service personnel and special allowances given to Naval and Air Force personnel deployed in high-risk duties.
(With inputs from ANI)