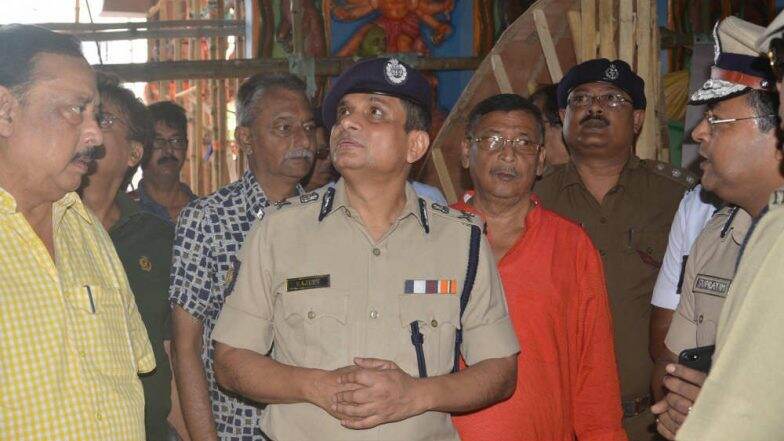 Shillong, February 9: Kolkata Police Commissioner Rajeev Kumar on Saturday has appeared before the Centre Bureau of Investigation (CBI) in Shillong. Kumar will be questioned by the probe agency in connection with the Saradha chit fund scam case. The Supreme Court had earlier issued a notice to Kumar on a contempt plea filed by the CBI in connection with the Saradha chit fund scam. However, the apex court ordered the agency not to initiate any coercive action against Rajeev Kumar or arrest him.
The top court on February 5, directed Kumar to appear before the CBI in connection with the scam. The CBI on Tuesday had filed an affidavit in the top court alleging that the probe agency collected several incriminating materials during the probe against the senior police officials as well as senior politicians. Meanwhile, on Thursday, the CBI also summoned suspended Trinamool Congress Rajya Sabha MP, Kunal Ghosh to appear in Shillong CBI office on February 10 in connection with the Saradha chit fund scam case. Kolkata Police Raids Properties Allegedly Linked to Former Interim CBI Director M Nageswara Rao.
Meghalaya: Kolkata Police Commissioner Rajeev Kumar arrives at the CBI office in Shillong. He will be questioned here today in connection with Saradha chit fund scam. pic.twitter.com/rT3naYZz6E

— ANI (@ANI) February 9, 2019
The latest stand-off between the Narendra Modi-led central government and West Bengals Mamata Banerjee government has again brought the two multi-crore ponzi scams - Saradha and Rose Valley - into the mainstream of the political discourse. A political row erupted over the probe agency's move to question the Kolkata Police Commissioner in connection with the case on February 3. Five CBI officials were also detained by the Kolkata Police, but were later released. CBI Summons Suspended TMC MP Kunal Ghosh in Connection With Saradha Chit Fund Scam.
After the entire incident, West Bengal Chief Minister Mamata Banerjee called for the 'Save the constitution' dharna after high drama took place outside the residence of Kumar. The sit-in protest was called off on February 5.