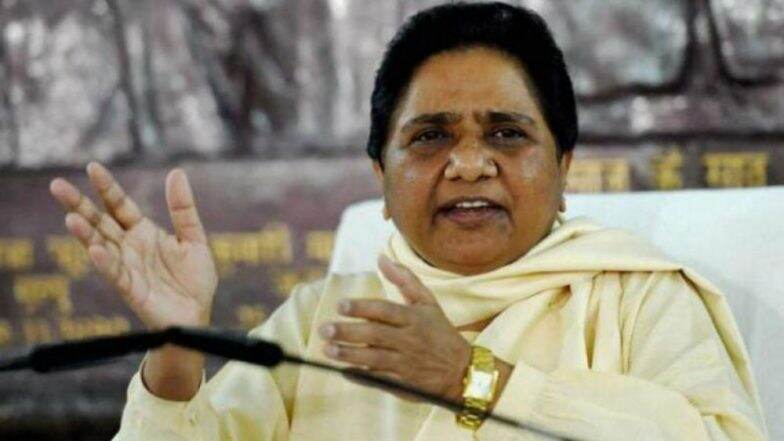 New Delhi, February 8: In a blow to Bahujan Samaj Party (BSP) chief Mayawati, the Supreme Court on Friday said she will have to pay all public money spent on building statues of herself and elephants, the party's symbol, in Lucknow and Noida. "We are of the tentative view that Mayawati has to deposit the public money spent on her statues and party symbol to the state exchequer," the apex court said.
A three-judge bench, headed by Chief Justice of India Ranjan Gogoi, made the remark while hearing a petition filed by an advocate who had contended that public money cannot be spent for creating own statues and for propagating the political party. The bench, also comprising justices Deepak Gupta and Sanjeev Khanna, posted the matter for final hearing on April 2. Mayawati Joins Twitter Ahead of Lok Sabha Elections 2019, Tejashwi Yadav Takes Credit For Making Her Do So.
The top court clarified the tentative view was expressed by it as the matter will take some time for the hearing. "We will have it for final disposal on April 2," the bench said. Earlier this month, the Enforcement Directorate (ED) carried out searches in connection with alleged irregularities of over Rs 111 crore in construction of memorials and statues in Uttar Pradesh during Mayawati's tenure as chief minister between 2007 and 2012.
The state government headed by Mayawati had built memorials, statues and parks at a cost of over Rs 2,600 crore in Lucknow, Noida and few other places in the state. The UP Lokayukta had earlier indicted Mayawati's two cabinet colleagues — Nasmeedunin Siddiqui and Babu Singh Kushwaha, besides 12 BSP MLAs and several others for alleged "wrong-doings" in the purchase of sandstone for the memorials.
Mayawati sought an apology from the BJP for its comments in the past against installation of statues of Dalit icons after Prime Minister Narendra Modi unveiled a 182-metre high statue of Sardar Vallabh Bhai Patel in October last year.