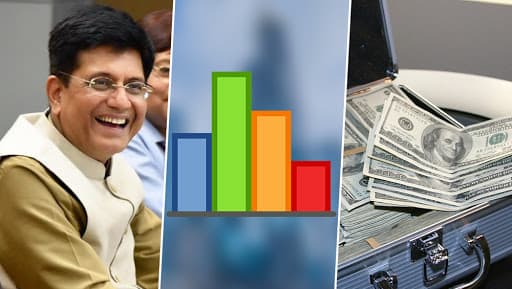 New Delhi, August 28: Prime Minister Narendra Modi-led Union Cabinet on Wednesday took significant decisions to improve the economic situation of the country and announced liberalisation of Foreign Direct Investment (FDI) norms. It also announced 100 percent FDI in contract manufacturing through automatic route and 100 percent FDI in coal mining.
Briefing about the key decisions taken by the Union Cabinet on Wednesday, Union Commerce and Industry Minister Piyush Goyal stated that the government had decided to liberalise the FDI norms. He mentioned through these measures, improvement in ease of doing business under Make in India programme could be made. Economic Slowdown Not as Bad as Depicted, Just Consumers' Preferences Changed: SBI Study
Among the significant key decisions taken by the government in Cabinet meeting include an allowance of 100 percent FDI in coal mining via automatic route, 26 percent FDI in digital media and sugar export subsidy to go directly to farmers accounts. Also, local sourcing norms were eased for FDI in single-brand retail.
Informing more about the minutes of the Cabinet decision, Goyal said, "Opening up FDI in various sectors to attract investments has been a priority for Narendra Modi government. We have seen record FDI of USD 286 billion coming into India in the last five years."
Apart from this, Union Minister Environment, Forest and Climate Change Prakash Javadekar stated that the Cabinet had approved 75 new medical colleges, to be established by 2021-22. Through this move, the Union government is aiming to add 15,700 MBBS seats in the country. He also stated that the Union Cabinet had approved sugar export policy for the evacuation of surplus stocks during sugar season 2019-20. This financial year, nearly 60 lakh tonnes of sugar to be exported.
Nirmala Sitharaman Tries To Boost Indian Economy: From Withdrawal Of Tax On FPI To Reducing EMIs; Watch Video:
The Union ministers stated that the Union Cabinet approved the establishment of an International Coalition for Disaster Resilient Infrastructure (CDRI). PM Modi is expected to launch CDRI during the United Nations Climate Summit in New York on 23rd September 23, 2019.