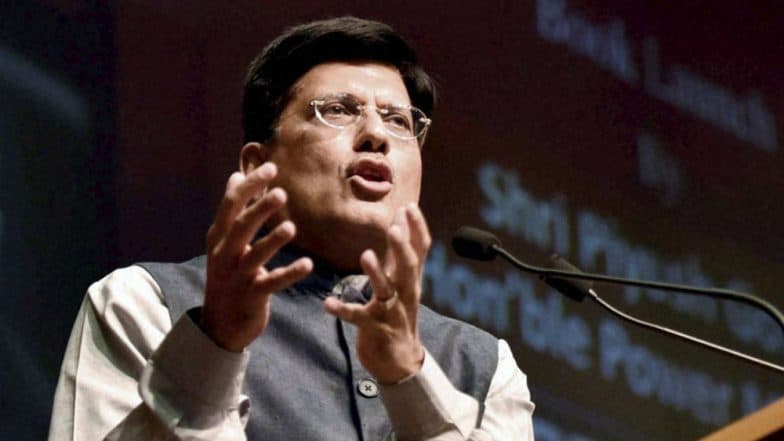 New Delhi, September 11: Union Trade Minister Piyush Goyal on Wednesday stated that the Narendra Modi government would protect India's national interest while signing the Regional Comprehensive Economic Partnership (RCEP) free trade agreement. Adding on, the Minister opined that few industries could not hold the free trade agreement hostage for their self-interest.
Goyal mentioned that the first priority of the Union government is to provide adequate protection for domestic industry and then only India would sign agreements with other countries to conclude negotiations by November. Centre had invited representatives of RCEP for discussing ideas in New Delhi on September 14-15. Trade Deficit With China 'Big Concern' For India, Says EAM S Jaishankar Casting Doubt Over RCEP Agreement
Earlier, External Affairs Minister S Jaishankar marked India's dissent against the "protectionist trade policies" of China while speaking during a panel discussion in Singapore on Monday. He had criticised the Chinese leadership of providing "unfair market access" to trading nations, while reaping benefits from open markets in several countries around the globe.
The EAM believed that RCEP free trade agreement to ink trade deals depends on whether all 16 participating nations would adopt a fair, equitable trade policy. So far, India had not shown any inclination to be part of the RCEP.
Apart from the proposed trade pact between the 10 countries of the Association of Southeast Asian Nations, six FTA partners, including Australia, China, India, Japan, Korea, and New Zealand are also the RCEP members. The agreement accounts for 25 percent of global gross domestic product, 30 percent of global trade, 26 percent of foreign direct investment flows, and 45 percent of the world's population.