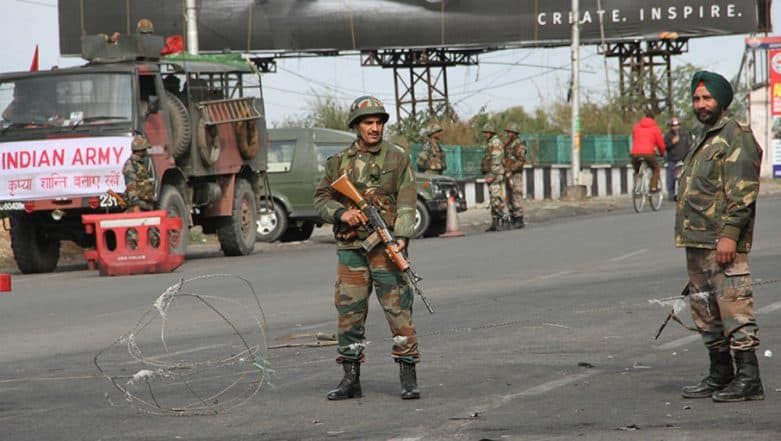 Jammu, March 13: Days after the deadly Pulwama terror strike in which 40 CRPF jawans were martyred, terrorists on Wednesday opened fire at security forces in broad daylight in Kashmir's Pulwama district. Reports inform that a jawan has succumbed to injuries in the hospital.  A joint team of Army and SOG has launched a cordon and search operation in the area to nab the assailants. According to reports, the jawan was injured in the gunfight and was rushed to the nearby hospital where he succumbed to injuries.
According to reports, the gunfight broke out outside the jawan's house in Pingleena village in south Kashmir's Pulwama. On March 10, an encounter broke out between security forces and militants in Jammu and Kashmir's Pulwama district.  Pulwama Terror Attack: Here's What We Know So Far About The Suicide Attack That Killed 43 CRPF Jawans in Jammu And Kashmir. 
Reports inform that the security forces had launched a cordon and search operation in Pinglish area of Tral in south Kashmir district after receiving specific intelligence input about presence of the militants in the area, a police official said. Pulwama Terror Attack: Terrorists Are Deploying Car Bombs to Increase Scale of Destruction.
On March 11, the mastermind of the February 14 Pulwama terror strike was gunned down in an encounter in south Kashmir's Tral area. Jaish-e-Mohammed (JeM) terrorist Mudasir Ahmed Khan alias 'Mohd Bhai' was among two militants killed in the encounter in Tral's Pinglish area in Pulwama district, officials said.
On February 14, 40 jawans of the CRPF were killed when a Jaishe-e-Mohammad suicide bomber rammed his explosive-laden vehicle in the bus ferrying jawans. The bus was part of a convoy of 78 vehicles carrying over 2,500 paramilitary personnel to Kashmir from Jammu.