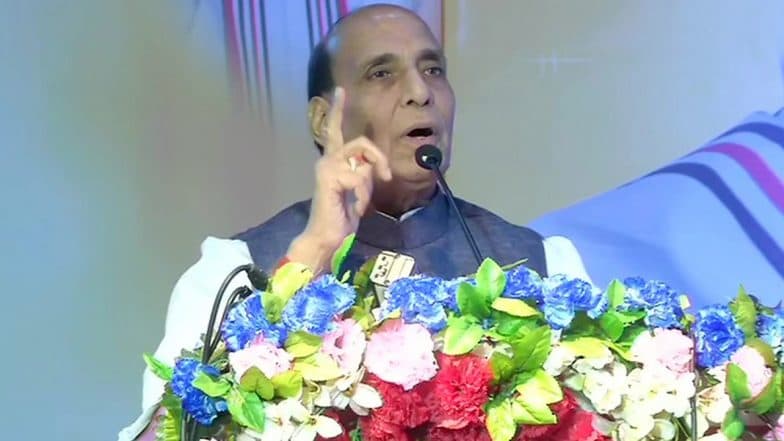 Patna, September 22: Days after stating that any future dialogue with Pakistan would be centred only on the issue of Pakistan-occupied-Kashmir (PoK), Defence Minister Rajnath Singh has once again warned the neighbouring nation of losing the occupied territory. While addressing a public event in Patna on Sunday, Singh said the Imran Khan government should "think about PoK" before resorting to any misadventure at the borders. Imran Khan Sharpens Rhetoric: 'No Chance of Talks With India Till Kashmir Curfew Lifted'.
The Defence Minister claimed that the Pakistan Prime Minister has already been deterred from furthering the anti-India sentiment in his nation. The cancellation of "march to LoC" in PoK, which was planned by Islamabad last week to express solidarity with Kashmir, proves that Khan is aware of the consequences of his action.
"You can see they're already getting discouraged. Pakistan PM comes to PoK and says 'countrymen don't go to India-Pak border'. I said it's good because if they do, they'll not be able to go back to Pakistan," Singh said.
The Defence Minister further suggested Islamabad to recall what happened in 1965 and 1971, when the country had to face a massive setback while carrying out a military operation against India. Pakistani troopers were killed on an unprecedented scale in 1965, whereas, the then East Pakistan (now known as Bangladesh) was carved out at as a separate entity as a result of the 1971 war.
"They should not commit the mistake of repeating 1965 and 1971. If they (Pakistan) repeat it, then they should think what will become of Pakistan-Occupied-Kashmir," he added.
Instead of raising false allegations of human rights abuses in Jammu & Kashmir, Singh said Islamabad should focus on the excesses being committed by its forces in Balochistan, Waziristan and border areas of Khyber-Pakhtunkhwa.
"Human rights violations are committed against Balochs and Pashtuns there. If it continues, no power in will be able to protect Pakistan from getting further divided into pieces," he said.
On Article 370 revocation, the Defence Minister reiterated that it's an internal matter of India and Pakistan has locus standi in it. The move to strip J&K of special status is the single-biggest crackdown on terrorism in the Valley, he claimed. "The biggest cause which gave birth to terrorism in Kashmir are Article 370 and Article 35A. This terrorism bloodied Kashmir," Singh further added.