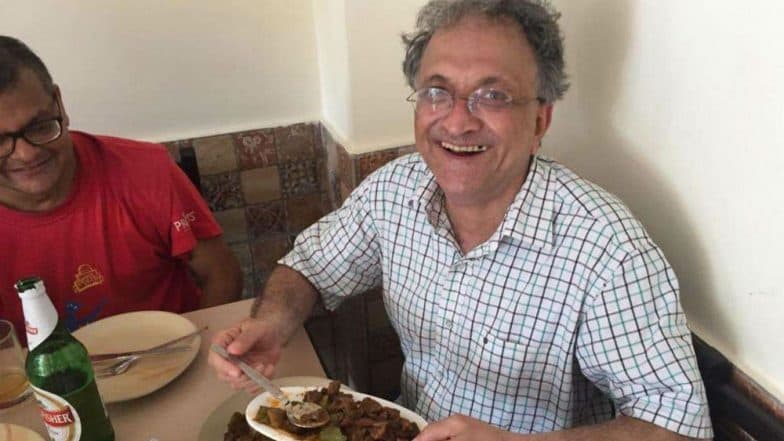 Panaji, December 9: Historian Ramachandra Guha, author of popular books like India After Gandhi and Gandhi- The Years That Changed The World (1914-1948), had to delete his picture on Twitter which showed him having beef for lunch. Guha had shared the image with the caption saying "After a magical morning in Old Goa we had lunch in Panaji, where-since this is a BJP ruled state- I decided to eat beef in celebration." Kerala Floods: Bigots Unplugged on Twitter, Blame Calf Slaughter, Beef Consumption For 'God's Wrath on His Own Country'.
However, Guha took down the picture later and said that the "photo was in poor taste." But the historian has been receiving death threats after the picture and police has been deployed at Ramchandra Guha's Bengaluru house following the threats. Man Brutally Thrashed to Death Over Beef Rumours, Meat Seized Sent For Examination.
Guha also shared how he was receiving threats from people after he shared the "beef-lunch" picture from Goa. He pointed out one RK Yadav in his tweet who he claimed was a former Research and Analysis Wing (R&AW) official. Uttar Pradesh Beef Killings: Bareilly Butcher Thrashed by Police Dies at AIIMS, Accused Cops Suspended.
Check the Tweet Below
This threatening tweet below is from a former official of the Research and Analysis Wing. I would like to place it on record, and will do with every subsequent threat received. https://t.co/MrG7AVL15U

— Ramachandra Guha (@Ram_Guha) December 9, 2018
Guha shared another tweet and said that he and his wife were threatened and even mentioned the number.
Check the Tweet Below
I have received threatening calls from a man calling himself Sanjay from Delhi. His number is +91-98351-38678. He threatened my wife as well as me. This is for the record.

— Ramachandra Guha (@Ram_Guha) December 9, 2018
However, people were quick to point the hypocrisy behind his tweet and shared an old tweet by Guha which said that he is a vegetarian. Journalist Rahul Kanwal retweeted one such tweet with the caption "A beef eating vegetarian?"
Check his Tweet Below
A beef eating vegetarian? @Ram_Guha https://t.co/a4jv4Qd3bB

— Rahul Kanwal (@rahulkanwal) December 7, 2018
Meanwhile, Guha tweeted in his defense that "I have deleted the photo of my lunch in Goa as it was in poor taste. I do wish however to again highlight the absolute hypocrisy of the BJP in the matter of beef, and to reiterate my own belief that humans must have the right to eat, dress, and fall in love as they choose."