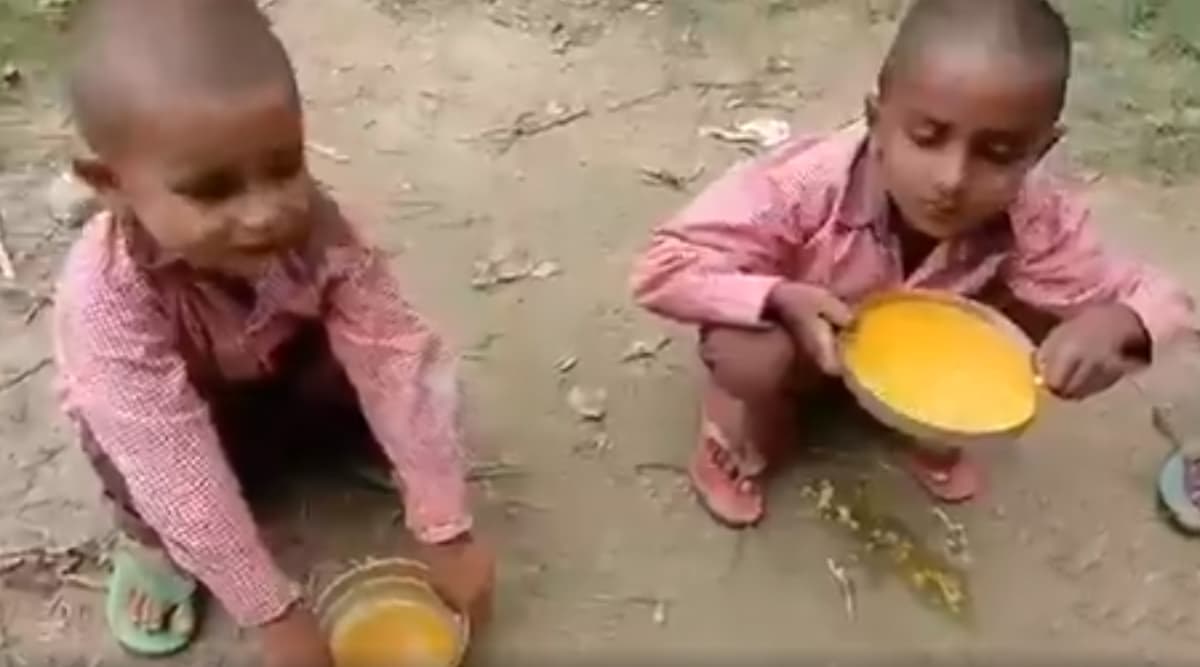 Lucknow, October 14: Months after the Uttar Pradesh government led by Yogi Adityanath was left red-faced after a video showed school children being served "salt-roti" under the Mid-Day Meal Scheme, another video has surfaced online which shows school children allegedly served "turmeric-rice" or haldi-chawal in school. The incident took place in Uttar Pradesh's Sitapur district. 'Salt and Roti' For Midday Meal at Mirzapur School: Editors Guild of India Says 'Don't Shoot the Messenger' After UP Govt Files FIR Against Journo.
The incident was captured on a video and the clip of the school children sitting on the ground with "turmeric-rice" in the utensils has gone viral on social media. Many netizens also took a dig at the Uttar Pradesh government by asking "when will the government arrest the journalist responsible for clicking the picture." Prashant Kanojia, Arrested Over Tweet on Yogi Adityanath, To Be Released Immediately, Orders Supreme Court.
Check the Video Showing School Children Served Turmeric-Rice or Haldi-Chawal in Tweet Below
Turmeric water being served to School Children in MidDay meal in Sitapur , U.P surfaced.

Waiting for U.P govt to arrest the Journalist who captured the video and made it Viral. @Nehr_who https://t.co/BO6yCqtf0j pic.twitter.com/UPKwe4JSS4

— Common Man (@ABCNLimited1234) October 13, 2019
District basic education department officials reached the spot after the video of the incident went viral, reported news portal Indiatimes.com. Not just this, the officials claimed that the video shot was misleading as the students were served rice and vegetables before the video was shot.
In August this year, the Uttar Pradesh government had arrested a journalist named Pawan Jaiswal after the journalist shared a video which showed that school children were served salt-roti for midday meal at Mirzapur school.
The Uttar Pradesh government had came under severe criticism from the Editors Guild of India after reports said that journalist Pawan Jaiswal was booked under criminal laws and an FIR registered against him. "It is a cruel and classic case of shooting the messenger. It is precisely exposé such as these that show how valuable free and fearless journalists are to a democratic society," the Editors Guild had said about the warrant against the journalist.