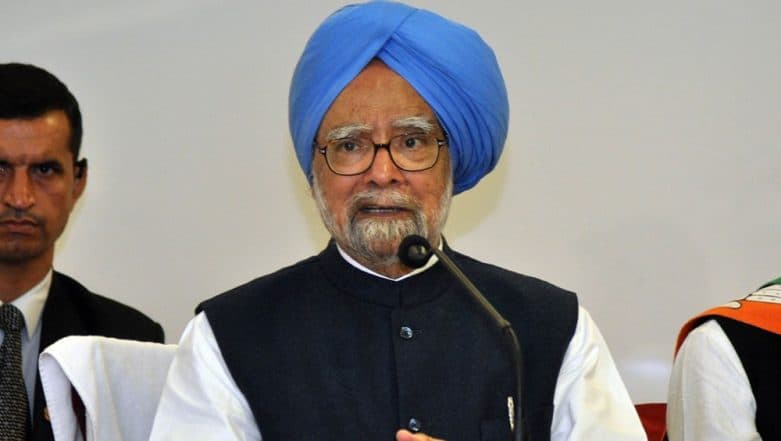 New Delhi, May 2: With national security being used as the prime poll plank by the ruling BJP in Lok Sabha elections 2019, former Prime Minister Manmohan Singh has attempted to expose the alleged loopholes in the Narendra Modi regime's tall claims. On surgical strikes being used as a deterrent measure for the first time by this dispensation, Manmohan said it's untrue as his government had conducted "multiple surgical strikes" but did not publicise it.
Manmohan, who led the nation for 10 years as the Prime Minister, also countered Modi's charge that the UPA had posed a weak response to the 26/11 terror attack in 2008. The ex-PM said his government had not taken the military route, but launched a relentless diplomatic campaign to "isolate" the erring neighbour. Sheila Dikshit Admits 'Manmohan Singh Was Not as Strong as Narendra Modi' in Responding to Pakistan-Sponsored Terrorism
"Within 14 days of the Mumbai attack, we got China to agree to declare (LeT chief) Hafiz Saeed as a global terrorist," Manmohan was quoted as saying by HT. He further recalled that the United States placed a most wanted tag on Saeed and placed a $10 million bounty on him.
According to the Congress veteran, the Modi government is "hiding behind" the valour of armed forces to hide its dismal performance on the economic front.
Manmohan said the incumbent government has committed "unpardonable failures" which have pushed scores to economic disparity and devastation. He was primarily referring to the shock implementation of demonetisation, followed by a complicated roll-out of the Goods and Services Tax (GST) regime.
On being asked whether Modi could be compared as decisive as former late PM Indira Gandhi, Manmohan said there is no comparison to "greatness of Mrs Indira Gandhi" and the "pettiness" of the present regime.