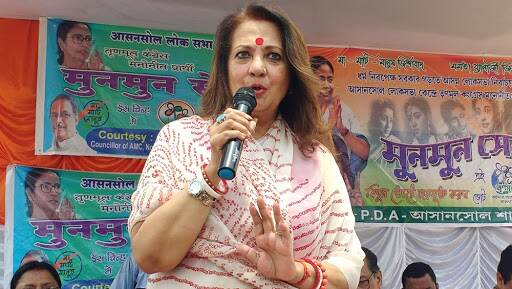 Asansol, April 29: With violence and clashes marred the Lok Sabha Elections 2019 in Asansol, Trinamool Congress candidate former actress Moon Moon Sen said she "hadn't heard anything" because she had woken up late. It is to be known that clashes erupted in some polling booths on Monday morning between workers of the BJP and TMC.
Asked by reporters on her comments on violent clashes in Asansol, the 'giant-killer' TMC candidate said, as quoted by NDTV, "They gave me my bed tea very late so I woke up very late. What can I say? I really don't know." CPM's Mohammad Salim Questions PM Narendra Modi's Educational Qualifications, Says 'How did He Attend Classes During Emergency?' 
Not only this she even refrained to speak on the issue if BJP candidate Babul Supriyo's car was attacked or Trinamool workers were taking over booths and not allowing people to vote. She said, "Don't say his name, please. I won't talk then."
When the reporters tried to ask her whether the violence in Asansol was a real issue and what is her opinion, she said, "You were too young to see when the Communists were in power. It is all over India, not just Bengal." Babul Supriyo's Car Vandalised Outside Polling Booth in West Bengal's Asansol by Alleged TMC Workers. 
The 65-year actress-turned-politician refused to speak on the Asansol riots last year over Ram Navami procession. She said, "I was not there during the riots," she protested. "...You have no idea how many meetings I've done. You have no idea how busy I have been..."