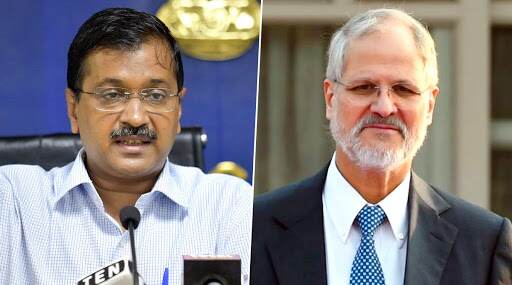 New Delhi, January 22: Former Lieutenant Governor of New Delhi Najeeb Jung had applauded Delhi Chief Minister Arvind Kejriwal for the development work done by his government in last one year. This is for the first time that Jung had set praises for Aam Aadmi Convener in last three years after leaving the post of L-G of Delhi. Jung also said that Kejriwal has become a "much better administrator over the last one year".
Stating that Kejriwal has his 'heart in the right place', Jung opined that the bureaucrat-turned-politician had learned to place himself in the political arena. Jung also mentioned that now he shares a good personal relationship and called any acrimony between them a myth. Delhi Assembly Elections 2020: Arvind Kejriwal Files Nomination From New Delhi Seat After A Wait For 6 Hours And 20 Minutes at Jamnagar House.
Expressing his opinion about Kejriwal, Jung had said, as quoted by News 18, "We looked at things differently. I respect him for that because politicians often see things differently from the trained civil servants like myself." Jung also mentioned that Kejriwal had turned into a "much, much better" administrator over the last one year.
It is to be known that Jung had resigned from his post of LG in December 2016 long-running feud after a continuous feud with Kejriwal. Applauding the Delhi CM for his confidence, Jung said, "His (Kejriwal) performance has been very good. I have enormous respect for Manish Sisodia and the way he conducted himself… worked in education. I also respect Arvind for his work in the health sector."
Apart form advising Kejriwal to work for the people and be less arrogant, Jung suggested that the AAP convener should maintain good relations with the civil servants. The applause from the former LG comes at a time when Assembly elections in Delhi are going to take place on February 8 and the results would be declared on February 11.