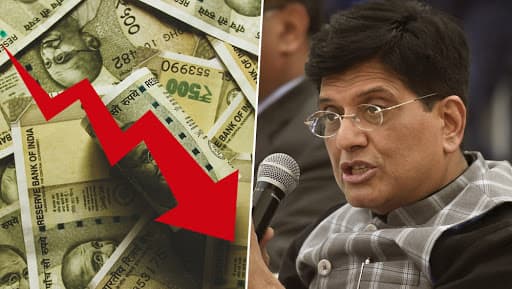 New Delhi, September 12: Hours after making a gaffe by stating that "Maths never helped Einstein discover gravity" and facing flak, Union Trade Minister Piyush Goyal on Thursday commented that his statement had a certain context. He even criticised the media for selectively picking up one line and creating a very mischievous narrative. Piyush Goyal Says 'Maths Didn't Help Einstein Discover Gravity, Don't Get Into This GDP Mathematics'; Watch Video
Expressing his discomfort over the reports in the media for taking his comments "inappropriately", Goyal made a clarification. He said, "The comment that I made had a certain context. Unfortunately, some friends have sought to remove the context, pickup one line and create a very mischievous narrative." Adding more, he said, "There is a very mischievous & baseless narrative sought to be presented about my closing comments at the board of trade meeting this morning." Economic Crisis in India: Congress All Set to Take on Narendra Modi Govt, Plans Massive Agitation Across Country From October 15
Here's the clarification tweet:
Union Minister Piyush Goyal's clarification on his recent comments: The comment that I made had a certain context. Unfortunately some friends have sought to remove the context, pickup one line and create a very mischievous narrative. https://t.co/34nn1x3IlS pic.twitter.com/iK7UyU8Q12

— ANI (@ANI) September 12, 2019
Earlier in the day, Goyal lashed out at experts questioning the Narendra Modi government's USD 5 trillion economy dream in view of low GDP. He had said, "Don't get into the calculations that you see on television. Don't get into this maths. Maths have never helped Einstein discover gravity. If we had only gone by structured formulae and what was past knowledge, I don't think there would have been any innovation in the world." India's GDP Growth to Remain at 5.7% in FY-2020, Predicts HSBC Expert
Following this, his comments were widely reported in the media, which gave an opportunity for the opposition a chance to attack the Union government again on the economic crisis.