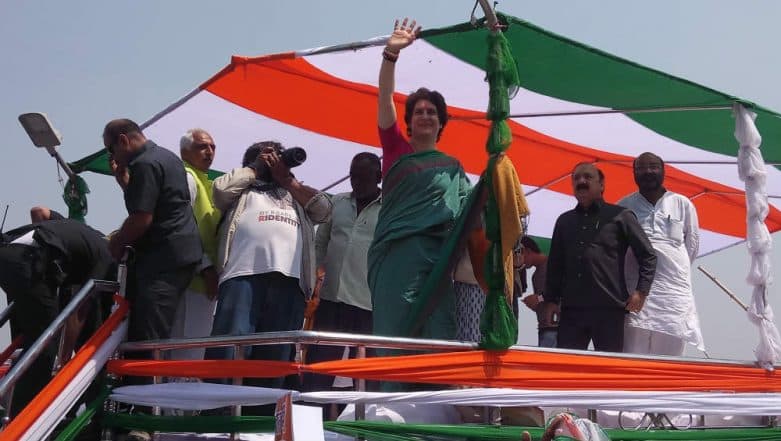 New Delhi, March 25: With the Lok Sabha elections 2019 coming to knocking the door, political parties and their leaders have started accusing each other. In the latest development, Congress general secretary Priyanka Gandhi Vadra on Monday took a dig at 'Namo Again' and 'Chowkidar' T-shirts that are being sold as part of poll merchandise.
Expressing her opinion the t-shirts being sold, Priyanka Gandhi took to Twitter and wrote, "BJP leaders are busy marketing T-shirts, if only they could pay attention to those suffering." Lok Sabha Elections 2019: Will Priyanka Gandhi Atone Congress' Sins in Ayodhya, Asks BJP. 
Adding more, the general secretary for the Eastern Uttar Pradesh region highlighted the issue of UP's Shiksha Mitras, or contractual teachers. She wrote, "The hard work of Uttar Pradesh's 'shiksha mitras' is insulted every day. Scores of sufferers committed suicide. Those who took to the streets to protest were beaten with lathis, National Security Act was registered against them."
Here's the Tweet:
उत्तर प्रदेश के शिक्षामित्रों की मेहनत का रोज़ अपमान होता है, सैकड़ों पीड़ितों नें आत्महत्या कर डाली। जो सड़कों पर उतरे सरकार ने उनपर लाठियाँ चलाई, रासुका दर्ज किया। भाजपा के नेता टीशर्टों की मार्केट्टिंग में व्यस्त हैं, काश वे अपना ध्यान दर्दमंदों की ओर भी डालते। #Sanchibaat pic.twitter.com/eBeyNSt3va

— Priyanka Gandhi Vadra (@priyankagandhi) March 25, 2019
It is to be known that hundreds of 'shiksha mitras' have been protesting and pressing for better pay and appointment as assistant teachers in the state.
In the meantime, the 'NAMO AGAIN' T-shirt is being marketed on the NaMo App. Through this mobile application promotion and sale of such article, with tweets and re-tweets of those posting their picture with items purchased can be seen. This started in September last year and since then has rolled out several items such as coffee mugs, stickers and T-shirts. Recently, 'Main bhi Chowkidar' T-shirts have also hit the stores.