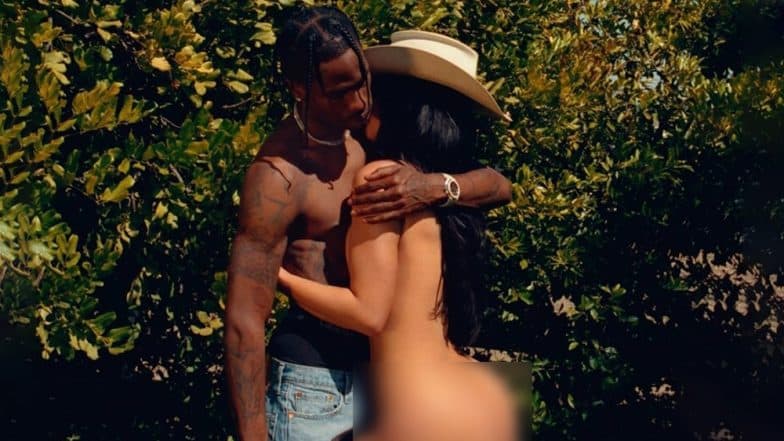 Kylie Jenner and Travis Scott are definitely Hollywood's IT couple. From a whirlwind 'on the road' romance after hooking up at Coachella, to quickly becoming dead serious with each other and conceiving daughter Stormi Webster, to fielding off multiple rumours of engagements and marriages, Kylie and Travis have remained together through it all and don't really care about much of the media hullabaloo surrounding them. In fact, at times (especially during Kylie's 22nd birthday on a yacht) it does look like the duo has thrown caution to the wind. Kylie Jenner and Boyfriend Travis Scott Enjoy Smoking Weed Together (Watch Video)
Like in the pair's next photo shoot with the Playboy Magazine for its 'Pleasure', we all are being assured some sexy, racy and probably nude photographs of the pair, the teaser for which was given by Kylie herself.
Take a Look At This Risque Photo That The Business Mogul Shared:
View this post on Instagram
Kylie seems to be wearing nothing except for a cowboy hat, while embracing 'hubby' (the pair refers to each other as wifey and hubby) Travis, who is seen sporting his trademark low waist jeans, a silver chain and his watch. Kylie and Travis have earlier done a sizzling photoshoot for the GQ Magazine, where Kylie was dressed in a skimpy bikini and a white bodysuit, Travis was in his usual super low waist jeans and a coat sans a shirt. Kylie Jenner and Tyga Bump Into Each Other At Las Vegas Strip Club And Here's What Happened Next!
Kylie and Travis have been going strong for about more than 2 years now. It was only this year that there were rumours of Travis having been unfaithful to Kylie, but the pair never addressed any such rumours and seems to be as good and as strong as ever.