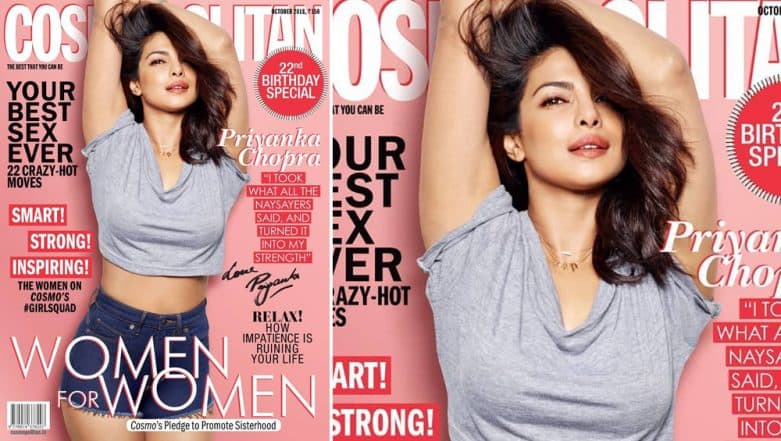 Cosmopolitan India marks its 22nd anniversary and who better than Desi Girl, Priyanka Chopra to star as its cover girl! The actress poses on the cover of Cosmo India's October issue that's all about promoting sisterhood. It was too long since we had PeeCee posing as the cover girl for any fashion and lifestyle magazine. Fortunately, Cosmo gave us that opportunity and here we are! Standing tall with some tease in her eyes, the Quantico star is making all the guys go weak in their knees. Priyanka Chopra in This Sexy Silver Backless Dress for Tiffany & Co's Blue Book Collection is Giving Major Fashion Goals (See Pics).
Dressed in casual denim shorts with a crop top, Priyanka's cover is nothing extraordinary. Thanks to her charm that's scoring all the extra points in this case. Neither the cover is unusual nor has the magazine has invested any time to make it look splendid. Okay, so you don't need elegant attires to do all the talking and your cover girl/man should compel readers to buy your issue. We agree with the ideology but then you need to ensure that you don't rely on celebs entirely. They would need a helping hand too. Priyanka Chopra Dressed in Red From Head to Toe, Is Ready to Stop the Traffic with Her Vivaciousness (View Pic).
When someone as glamorous as Priyanka Chopra is your cover girl of the month, you would grab the opportunity and present a shoot that's so distinct. PeeCee already has such stunning photoshoots in her kitty and it's impossible to beat all of them. However little efforts would mean no harm to anyone, right? We are disappointed with Cosmo India this time. And we hope they prove us wrong next month.