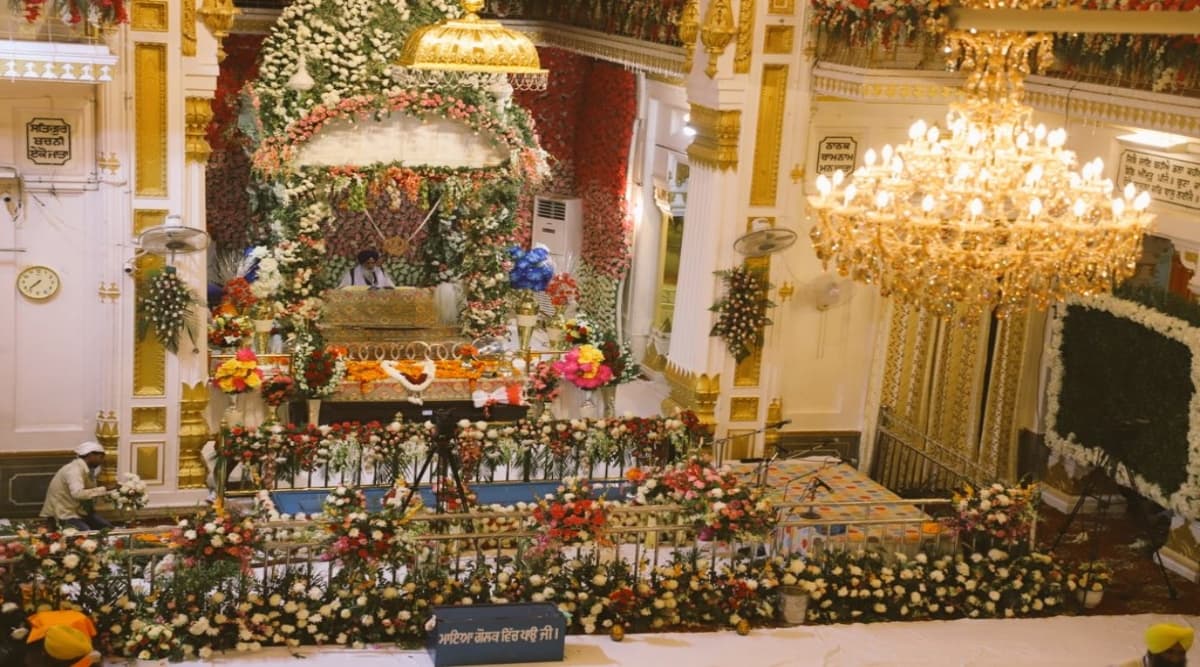 It is one of the holiest occasions for people of the Sikh community around the world as it the birth anniversary of Guru Nanak Dev Ji. Guru Nanak was the founder of the faith of Sikhism and every year, his birthday or Guru Nanak Jayanti is celebrated with great honour and respect. This year it is extra special as it marks the 550th Parkash Purab. The celebrations are marked worldwide and people of the Sikh community have gathered at Gurudwaras to pray on this auspicious occasion. Pictures and videos of Guru Nanak Jayanti 2019 celebrations are being shared on social media. Gurpurab 2019 Images & Parkash Purab 550 HD Wallpapers For Free Download Online: Wish Happy Guru Nanak Jayanti With GIF Greetings & Hike Messages on Guru Nanak Dev Ji Parkash Utsav.
The day of Guru Nanak Jayanti is also known as Gurpurab, Guru Nanak Jayanti, Guru Nanak Dev Ji Jayanti, Prakash Utsav and Parkash Purab. Being the 550th year, the celebrations are grander this time around. Preparations for this big day begin well in advance and people participate in early morning processions known as Prabhat Pheris. Special sweet of Karha Prasad is also prepared to distribute among all devotees. As the celebrations for this festive day are underway, we give you a glimpse into the pictures and videos from around the world. Happy Guru Nanak Jayanti 2019 Greetings And Quotes: Gurpurab Wishes, WhatsApp Messages And GIF Images to Share on Guru Nanak Dev Ji's 550th Parkash Utsav.
Check Some Pictures and Videos of Guru Nanak Jayanti 2019 Celebrations:
Sultanpur Lodhi
Glimpses from the 11th day of #550PrakashPurab celebrations at Sultanpur Lodhi. #550YearsOfGuruNanakDevJi #SultanpurLodhi pic.twitter.com/37uujwzGSH

— 550 Years of Guru Nanak Dev Ji (@550yrsGuruNanak) November 11, 2019
Decorations at the Gurudwara
Sangat gathers at Gurudwara Ber Sahib, Sultanpur Lodhi to celebrate 550th #gurupurab.#550PrakashPurab #550YearsOfGuruNanakDevJi pic.twitter.com/JNzJaitEfW

— 550 Years of Guru Nanak Dev Ji (@550yrsGuruNanak) November 11, 2019
Pictures from Johannesburg
Blankets and non-perishable food items being distributed by Gurudwara Sahib Johannesburg at William Nicole and Vrededorp in connection with #550YearsOfGuruNanakDevJi #GuruNanak550 #GuruNanakDevJi @hci_pretoria @550yrsGuruNanak pic.twitter.com/66N7TTJ1RR

— India in Jo'burg (@indiainjoburg) November 11, 2019
Celebrations in Bihar
#550PrakashPurab: #Bihar Nagar Kirtan passes through different parts of Patna.#550YearsOfGuruNanakDevJi #GuruNanak550 #AIRPics: Dharmendra pic.twitter.com/WFAcgjMIJD

— All India Radio News (@airnewsalerts) November 11, 2019
Some Glimpses From New Jersey
Honored to join my colleague @KansenChu to present a state Resolution to the @sanjosegurdwara in recognition of their celebration of the 550th birthday of Guru Nanak Dev Ji! Also, great to have with us New Jersey Attorney General Gurbir Singh Grewal! @NewJerseyOAG #GuruNanak550 pic.twitter.com/dfTrxDOSsJ

— Ash Kalra (@Ash_Kalra) November 10, 2019
From the National Capital
Delhi: Devotees gather at Gurudwara Bangla Sahib for the 550th birth anniversary of Guru Nanak Dev ji. #GuruPurab pic.twitter.com/zisQAlJ8pv

— ANI (@ANI) November 11, 2019
Video of The Prayers and Hymns
सतनाम वाहेगुरु #GuruNanakJayanti pic.twitter.com/TplHwszI1l

— Shweta Shalini (@shweta_shalini) November 12, 2019
So the celebrations are being carried out in great enthusiasm from the early morning. People share Gurpurab images, wishes and messages with their friends and family. It is one of the most significant times of the year for all Sikhs. The Gurudwaras are decorated with lights and flowers, special langar is held and it is a positive and holy vibe that surrounds everywhere.