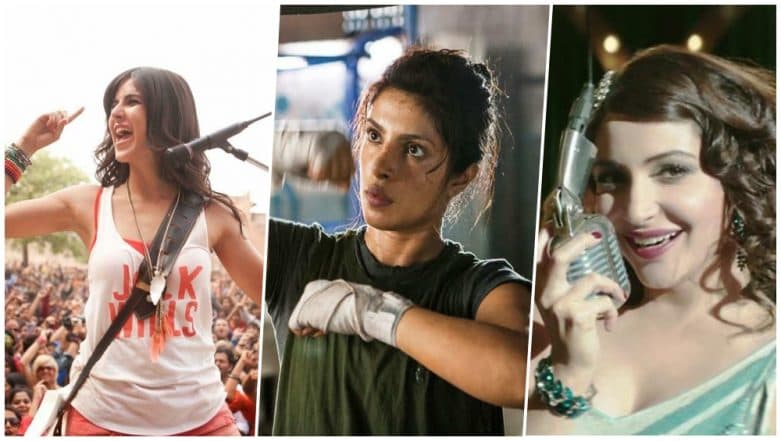 International Women's Day is observed on March 8 every year. It is a day which honours and respects the woman and all qualities of womanhood. It celebrates the achievements of women in different fields. In today's world even if a woman stands up for herself and goes against the specified norms, it is a struggle. Despite years and years of discussion and empowerment programme, women unfortunately still do not get the same conducive environment facilitating their personal growth. While most places celebrate the day by talking about the achievers', you can send your good wishes and dedication to your gal pals with some peppy songs that will boost them with confidence and all the good feels of being a woman. We give you a peppy women's day playlist which you can dedicate to your girl pals or best friends. International Women's Day 2019 Theme: History and Significance of The Day That Promotes Women's Rights.
Enough has been said about Bollywood songs objectifying women and portraying them as props more often than not. But there are also some good empowering songs for women which have been composed. These are the songs that talk about the sense of freedom, almost every second girl longs for. And over time, we have got some badass songs for women too. International Women's Day 2019: From Indira Gandhi to Sushma Swaraj, 13 Most Powerful Women in Indian Politics.
Women's Day Song Playlist That You Can Dedicate on This Day
Dhunki Lage (Mere Brother Ki Dulhan):
The film Mere Brother Ki Dulhan may have tanked at the box office but the song Dhunki Lage was quite popular. Showing Katrina Kaif as a free and liberated spirit the lyrics talks about breaking the walls that limit a girl. She comes across as a rebel, but that is not the idea on this day. The song asks you to be yourself while you live your life by your terms.
Ziddi Dil (Mary Kom):
Mary Kom's struggle in real life or actress Priyanka Chopra who played her role onscreen, both women have powerful stories of themselves to tell. This song from Mary Kom biopic will surely inspire you with determination. It has peppy beats and even if you watch the video of the song, it shows the struggles Mary Kom had to manage with her household tasks and boxing training. This song will serve you with the motivation you need for whatever task at hand.
Hum Toh Aise Hain (Laaga Chunri Me Daag):
This song from the film Laaga Chunari Mein Daag may be more than a decade old but it reiterates the idea that should be inculcated in every girl today. Instead of asking her to change and adapt according to society, she should be taught to embrace herself, the idea which this song promotes. A beautiful song with peppy music, shows Rani Mukherjee and Konkona Sen as sisters from a small town of Varanasi, enjoying their livelihood as they are.
Girls Like to Swing (Dil Dhadakne Do):
A peppy dance track from the film Dil Dhadakne Do, cannot be dismissed as just another party song if you carefully listen to the lyrics. In the start, it talks about what girls' desires and wishes. And if you love dancing, then watching Anushka Sharma groove on the beats will sure get your feet tapping. Talking about the modern girl, this song swings around the girl-next-door dreams.
Love You Zindagi (Dear Zindagi): 
Dear Zindagi was a beautiful film and this track is one among the most beautiful song compositions which celebrate the spirit of life.  The song leaves you with a positive vibe and you will sure have a good day to look ahead to if you listen to it.
These are some of the songs which provide an empowering take for women. These are peppy Bollywood songs which tune good music and carry a lovely message for the womenfolk. Send across these songs to your best friends and make a beautiful dedication to them this Women's Day!