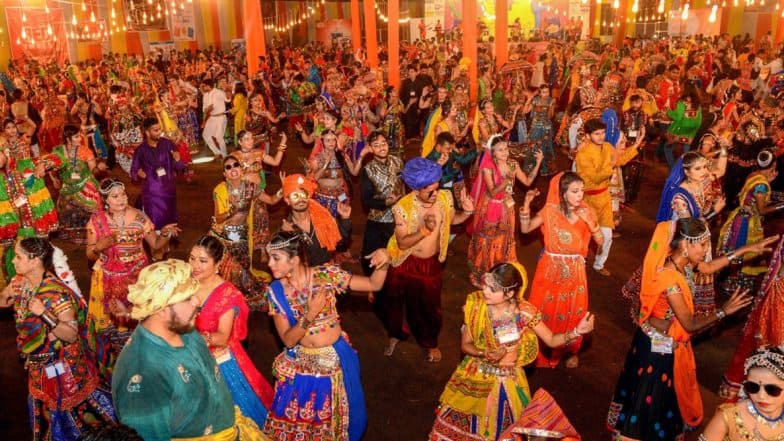 The grand festival of Sharad Navratri is approaching. This year, the celebration of nine nights will begin from September 29, and the festivity continues till October 7. It is a joyous time of the year, especially for people living in Gujarat and Maharashtra, who are captivated in this vibrant festival. Navratri is not only limited to traditional offerings and religious fests. The colourful attires, exciting buffets, melodious tunes and unmatched of garba nights is what people are enthralled during Sharad Navratri. You do not need any dancing skill, but just happiness and some basic steps to groove in during the Garba nights. Ahead of the celebration, here, we bring you Garba tutorial videos which are best for the beginners to learn and dance it out during Sharad Navratri 2019. Ghatasthapana Puja 2019 Date in Sharad Navratri: Kalash Sthapana Tithi, Shubh Muhurat and Puja Vidhi to Start Nine-Day Festival Dedicated to Goddess Durga. 
Navratri spans up to nine nights and falls during the autumn season every year. Sharad Navratri is observed in the honour of the divine feminine Devi, Maa Durga. The famous celebration includes Garba and Dandiya dance. Throughout the nine days, the cities are dressed up, and people come out of their house to celebrate this auspicious and joyous festival. Garba is a form of dance which originated in the state of Gujarat. The name is derived from the Sanskrit word Garbha (womb) and Deep (a small earthen lamp).
Watch Video: Garba Tutorial 1
This Garba steps for beginners video shows extremely easy steps that anyone can channel while wearing their charming smile. Watch the video and learn them step by step to brighten up the festivity.
Watch Video: Garba Tutorial 2
This video is short, and the choreographer teachers you five simple and most common Garba steps that you can never go wrong. Before each step, he can be seen explaining rightly when and how to step-turn-step-turn.
Watch Video: Garba Tutorial 3
The clip above is another great example that shows you how to perform the traditional dance form. People of all ages can be seen in the video practising for the wonderful Garba night.
The circular and spiral figures of garba is performed during the nine-day Hindu festival of Navratri. Either a lamp or an image of Goddess Durga is placed in the middle of concentric rings as an object of worship. Learn the basic steps with the help of the above tutorial videos and enjoy the festive nights.