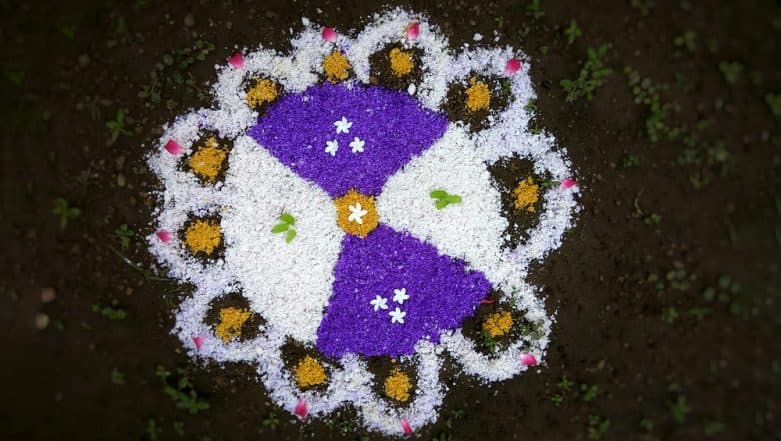 It is Gudi Padwa 2019, a colourful Indian festival that marks the New Year's Day for Maharashtrians as per the Hindu calendar. Yes, the festive season is here again, and everything around us is adorned with bright colours. In India, no festival can be enjoyed enough, without colourful decorations, including beautiful Rangoli designs. The search for new Gudi Padwa Rangoli designs that are easy to make on Marathi New Year 2019 is pretty high, and that's why we are here. We bring you a lovely collection of Gudi Padwa 2019 Rangoli designs, which has simple yet latest Rangoli patterns, Gudi Padwa Rangoli Kolam with video tutorials and images. Know About The Traditional Procession Which Celebrates the Maharashtrian New Year. 
April is full of festivals and events. Especially, April 6 is one auspicious date as it is the first day of Chaitra month according to the Hindu lunisolar calendar. This day marks the beginning of a New Year in the Hindu community under different names. Maharashtrians across the nation are celebrating Gudi Padwa or Marathi New Year and Ugadi or Telugu New Year or Kannada New Year. And Rangoli designs and patterns, a traditional art form that plays an important role during these special occasions. WhatsApp Messages, GIF Images and Facebook Greetings for the Marathi New Year. 
We bring you a handful of tips and latest ideas to create a beautiful rangoli design and adore your homes on Gudi Padwa 2019. Below, we have compiled easy, amazing and absolute fresh Gudi Padwa rangoli pattern videos for you to decorate every corner of your house with vibrant colours this Marathi New Year. Gudi Padwa Images & Ugadi HD Wallpapers for Free Download Online. 
There are many traditional rangoli designs such as Goddess Lakshmi footsteps, Kalash, swastika, mango motifs and different geometric shapes and designs. Traditionally, rangolis were made using flour, coloured rice, sand or flower petals. Today, various colours are also used to make the patterns look more vibrant and colourful. It is said that Gudi Padwa is a day when Lord Brahma created the Universe and rangolis hold special significance. Keep up your festive spirit and browse the fantastic DIY rangoli pattern videos to add unique structures to your Gudi Padwa 2019 rangoli designs. Learn How to Make Gudi At Home With This Simple DIY Video Tutorial to Celebrate Marathi New Year. 
Watch Video: Gudi Padwa Rangoli Design
We all know, giving the rangoli an appropriate structure, especially while making the circle, could be a little tricky. It could not be any easier! In the video, the creator shows you the easiest way to make a colourful rangoli, keeping the borders intact and making an astounding Gudi Padwa design.
Watch Video: Unique Gudi Padwa Kolam Design
You do not have to be an artist or any pro to create a colourful Rangoli this Gudi Padwa. The creator in this video will rightly show you how. All you is a plastic spoon and some more props to create a beautiful rangoli design at the entrance.
Watch Video: Gudi Padwa 2019 Rangoli Pattern
Well, this one is for those who loves drawing a rangoli pattern and would not shy away to experiment a little with the designs. Just follow the steps and add the same to your Gudi Padwa rangoli design. It is beautiful, rightly screaming the festivity of Marathi New Year.
Watch Video: Gudi Padwa Rangoli Design With Flower Petals
Rangoli created using fresh flowers is definitely another fantastic way to impress your guests with your skill. The moment you add some rose petals, tulsi seeds, leaves and many other flowers to your Rangoli, it just pops out all fresh and bright, giving it the accurate structure that the festivity deserves. The above video shows you a simple way to create enthralling rangoli patterns during Gudi Padwa.
These were a few unique and easy Gudi Padwa rangoli design ideas that you can utilise while creating the traditional patterns. Keep the traditional feel alive, choose your favourite colours and try these simple rangoli designs to welcome the Marathi New Year.