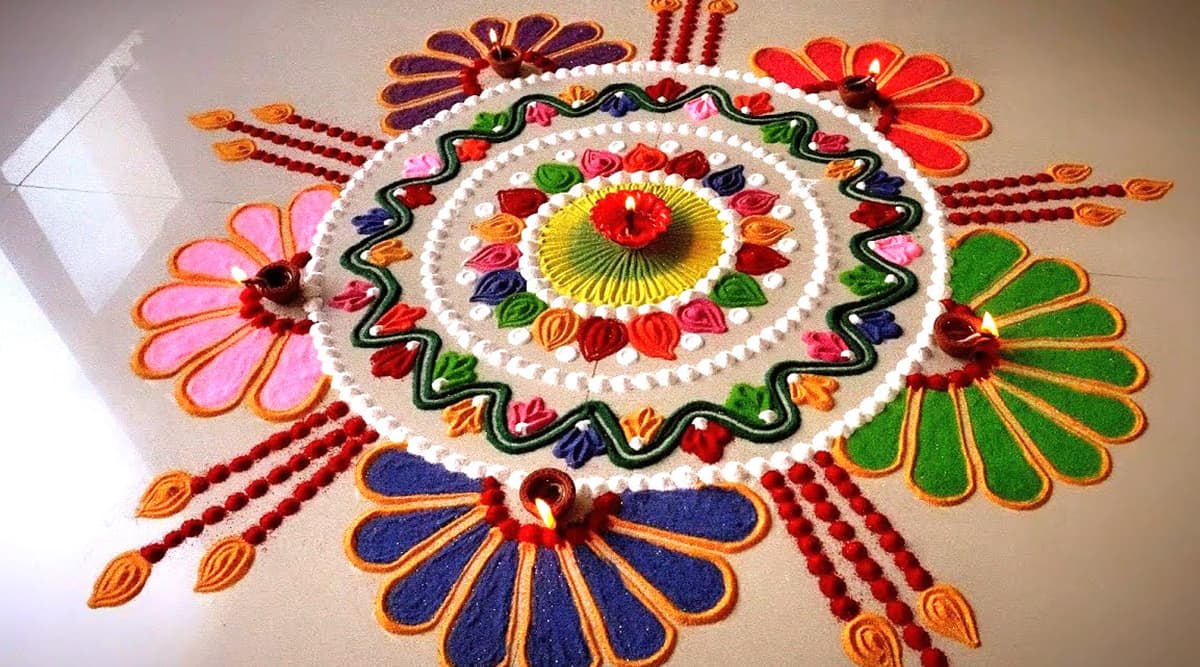 People in India and across the world are ready for yet another significant festival—Diwali. The auspicious celebration fondly called as the 'festival of lights' is one of the most awaited festivity. There is so much to do. The cities are soon going to be decked up in bright fairy lights and lanterns. And the entrances and centres of each household will be embraced with beautiful and colorful Rangoli and Pookalam designs. This year Diwali will be celebrated on October 27, and we cannot keep our calm. In this article, we bring you easy Rangoli designs for Diwali 2019. They are simple and quick patterns made with colours and marigold flowers that will make Deepavali 2019 yet another special occasion to cherish for a lifetime. Each idea is complemented with DIY videos for step-by-step guidance. Diwali 2019 Decoration Ideas: Brighten Up Your House With Diyas, Lanterns, Fairy Lights and Candles This Deepavali. 
Watch Video: Rangoli Using Fork
Forks, bangles, spoons, rings, and so many small things that you own at your house can help you giving that elegant touch to your rangoli. But only if you know the skill! This video will guide you what and how using tiny materials can make your rangoli look traditional.
Watch Video: Rangoli Using Marigold Flowers
Flower rangolis or Pookalam are extremely popular during festivals. Create it at the centre of your house or glorify a corner like the above video and enjoy your Deepavali celebration. Diwali 2019 Calendar: Know Dates of Dhanteras, Lakshmi Puja, Bhai Dooj and Other Important Days of The Festival of Lights. 
Watch Video: Diya Rangoli
Diya Rangoli is essential and an excellent design for the beginners. You can beautify your door entrances by making tiny diyas with bright colours to give a welcome your guest for the festival. The above video shows you quick hacks with the help of which you can make a beautiful Rangoli pattern, keeping a diya as your centre of attraction.
Watch Video: Pookalam
This is another video that will guide you to make a breath-taking Pookalam for the Diwali celebration. The design is the latest, and the steps are extremely easy to give you a beautiful final result. Collect some fresh flowers and leaves to beautify your space. Things About the Festival of Lights That People Staying Away from Home Miss the Most. 
We hope that the above videos will be helpful to you. There is nothing more satisfying than giving your home your personal touch at the festival. Lights, earthen lamps, candles, Rangolis and Pookalams, is what makes Diwali worth remembering. Shubh Deepavali, everyone!