We all celebrated the festival of Makar Sankranti just a week ago. The winter harvest festival celebrates the ending of the winter solstice and the start of longer and warmer days ahead. The festival is incomplete without making Tilgul and one of the ways of celebration which ladies practice is the Haldi-Kunku ceremony. Commonly called as Haldi Kumkum, ladies welcome their friends and family at home, give tilgul, flowers and a small token of appreciation with each other. In the age of smartphones, people rather send their invites for the function on WhatsApp or Facebook. If you are looking for Haldi Kunku invite messages, Haldi Kunku invitation wordings in Marathi, we give you a few messages and images which you can download for free, customise according to your need and send everyone. Wear Black on Makar Sankranti 2020 For Good Luck! Why Wearing Black Clothes Considered Auspicious on Uttarayan? Know More About the Traditions.
Makar Sankranti marks the first festival of the year and so there is definite enthusiasm about celebrating it with friends and family. Starting from Makar Sankranti ie January 15 until the day of Rath Saptami, the small gatherings of Haldi-Kunku take place. Women gather with their friends in the colony and relatives for this small ceremony. In the end, there is a small gift given to everyone for coming together. Women send out invites well in advance asking everyone to come to their homes for Haldi-Kunku. Until word of mouth, people now send out images and messages over WhatsApp to send invites. We have thus made a nice collection of Haldi-Kunku invite messages in Marathi, Haldi-kumkum invitation text and images.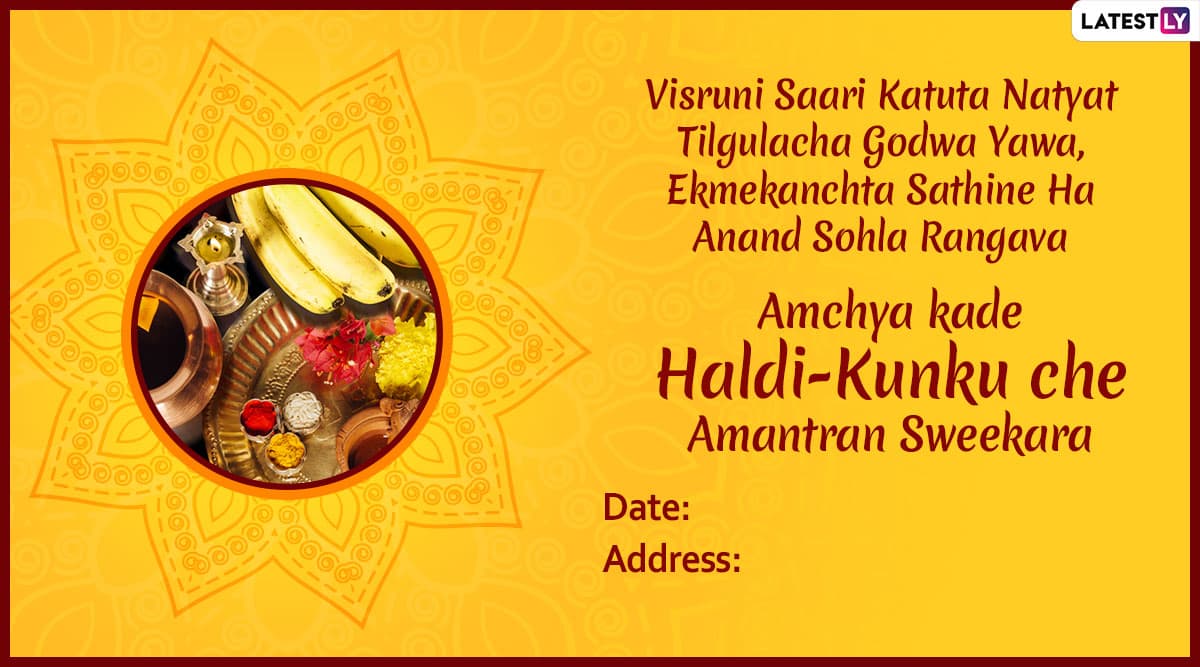 Message reads: Visruni saari katuta natyat Tilgulacha godwa yawa, Ekmekanchta sathine ha anand sohla rangava Amchya kade Haldi-Kunku che Amantran Sweekara.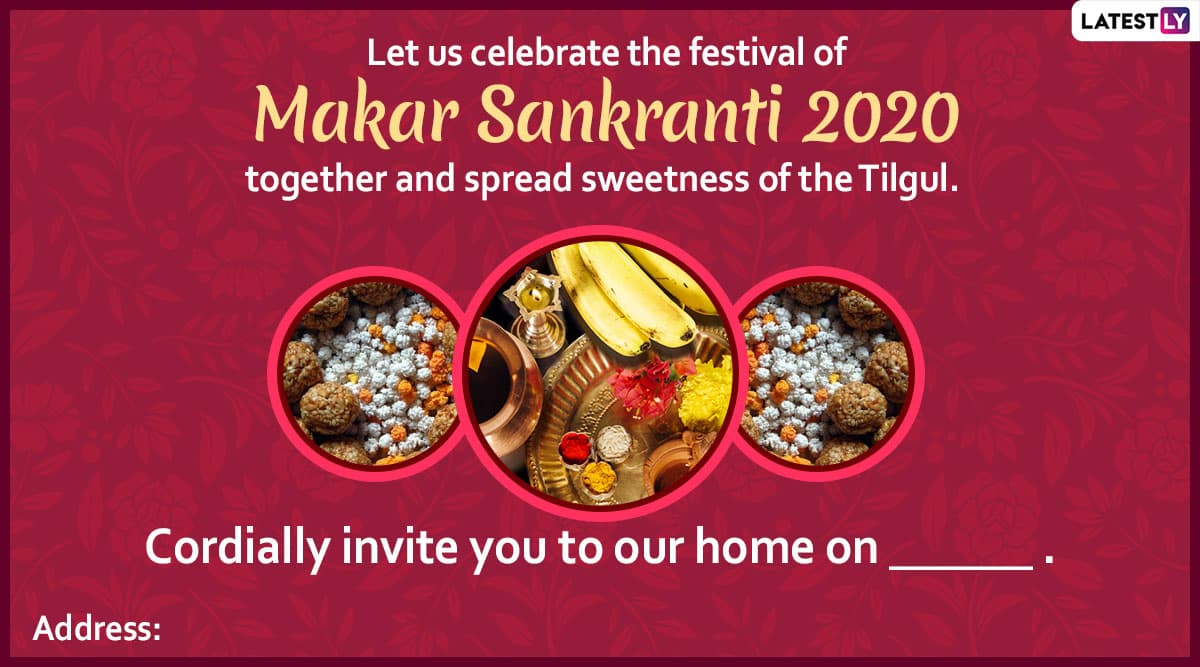 Message reads: Let us celebrate the festival of Makar Sankranti 2020 together and spread the sweetness of Tilgul. Cordially invite you to our home on ____ Address:
Message reads:  हास्याचे हलवे, तीळ गुळाची खैरात लुटून वाण, साजरा करू सण उत्साहात रथसप्तमीच्या या शुभ मुहूर्तावर आमच्या घरी हळदी कुंकू समारंभाचे आयोजन केले आहे.आपल्या उपस्थितीने कार्यक्रमाची शोभा वाढवावी.
All you have to do is download these GIF images, WhatsApp Messages and add in your address and date. You can then send them via WhatsApp or share with your Facebook friends. We wish you all have a happy and joyful celebration of the festivities.
(The above story first appeared on LatestLY on Jan 21, 2020 04:38 PM IST. For more news and updates on politics, world, sports, entertainment and lifestyle, log on to our website latestly.com).