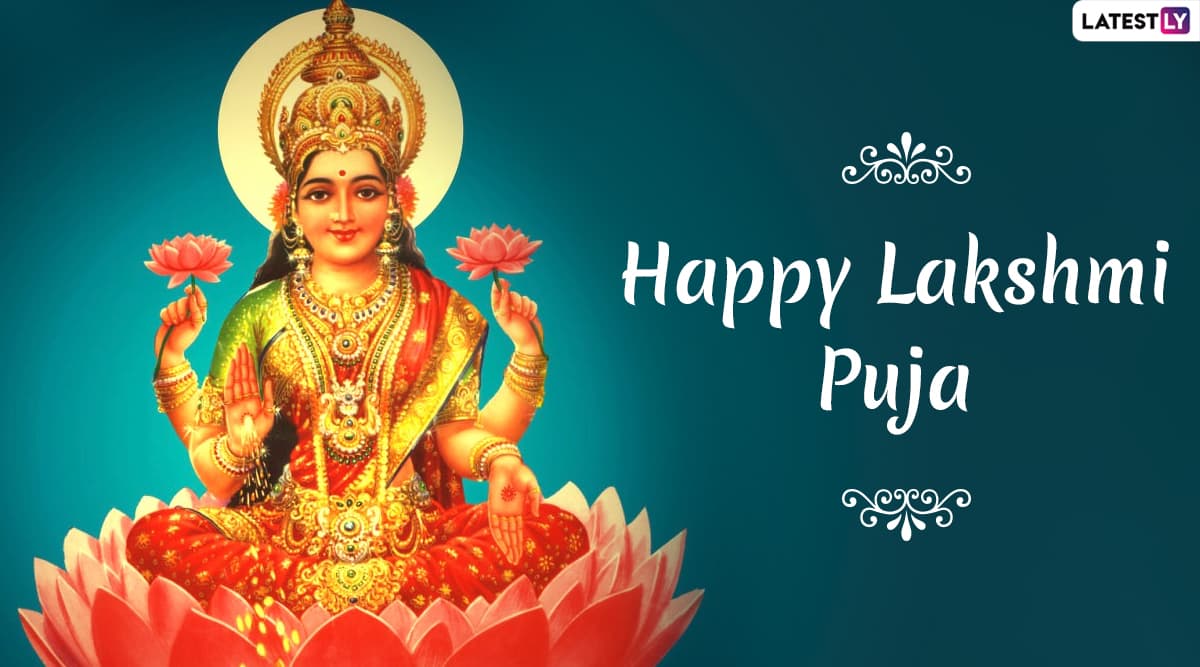 The festival of lights, Diwali 2019 is here and people cannot keep their calm. The excitement levels are sky-high. Also called Deepavali, it is one of the biggest and grandest festival celebrated in India. Lakshmi Pooja, on the third day of the 5-day festival, is considered to be the most significant for devotees. Ahead of Lakshmi Puja (also spelt as Laxmi Pooja, Laxmi Pujan), there are several questions people have in their mind as one must worship as per customs and rituals. The article below provides complete information on Lakshmi Puja 2019 date, shubh muhurat (auspicious timings) as per Hindu calendar, puja vidhi, aarti and significance. Besides, the article also explains which side should one place Lakshmi and Ganesh murti during Diwali Puja. Diwali 2019 Invitation Cards Format: WhatsApp Messages and Images to Invite Friends and Family for Lakshmi Puja and Diwali Party.
Lakshmi Pooja, or Diwali, is one of the most important festivals in India. The festival of Deepavali is popularly called as 'Festival of Lights'. The Diwali festival signifies the victory of light over dark, good over evil, knowledge over ignorance, and hope over despair. Several deities are worshipped on the occasion of Diwali. The main gods and goddesses worshipped are Saraswati, Lakshmi, Kuber, and Ganesha, among others. People living in different parts of the country also include Navgraha gods and other deities as per their beliefs.
When is Lakshmi Puja 2019?
Lakshmi Pooja will be celebrated on October 27 this year, i.e. Sunday. Lakshmi Pujan or Diwali is celebrated on Amavasya (New Moon Day) of Krishna Paksha (dark fortnight) in the month of Ashwin of the Hindu Samvat Calendar. The third day of the 5-day festival is when devotees do Lakshmi Puja. It is considered to very important and auspicious among all the five days.
Story and Significance of Lakshmi Puja or Badi Diwali?
As per a legend, Goddess Lakshmi – Goddess of Wealth (wife of Lord Vishnu) – visits the devotees' houses and blesses them with gifts, wealth, and blessings in abundance. It is said that people, therefore, clean their house and offices to welcome the Goddess. Lights, earthen lamps are installed; sweets are made and bought to please her among other festivities. They say, the happier the Goddess is during her visit, the more she blesses her devotees.
Goddess Lakshmi and Saraswati, and Lord Ganesha and Lord Kuber are worshipped on this auspicious day of Diwali, or say during Laksmi Pujan.
Shubh Mahurat for Lakshmi Puja 2019?
Lakshmi (Diwali) 2019 Pooja Kumbha Lagna Muhurat (Noon) – 14:21 to 15:57 (2.21 PM to 3.57 PM), Duration - 1 hour 37 minutes.
Lakshmi (Diwali) 2019 Puja Vrishabha Lagna Muhurat (Eve) – 19:15 to 21:15 (7.15 PM to 9.15 PM), Duration - 2 hours.
Lakshmi (Diwali) 2019 Pujan Simha Lagna Muhurat (Midnight) - 1:41 AM to 3:49 AM, October 28, Duration - 2 hours 8 minutes.
Which Side Should Lakshmi Ganesh Murti Be Placed?
Before performing Diwali Puja, it is important to correctly place Goddess Lakshmi and Lord Ganesha murti (idols), two main deities worshipped during the festival. One must Lord Ganesha murti on the right, and Goddess Laxmi will be on the left. In simpler terms, Lakshmi murti must be placed on the right-hand side of Ganesha.
How is Lakshmi Puja Performed?
There are different manners in which one performs Lakshmi Pujan in their households, offices and other places. Also, many people observe fast for the auspicious festival, which is broken after the Lakshmi Pooja in the evening. People also pray for their ancestors (shradh) during Diwali.
They decorate their houses with flowers and leaves. Also, all sorts of fancy lighting is installed in open spaces and earthen lamps, well, they are a must for Diwali. For people who own vehicles, they decorate them with flowers and leaves too.
Speaking about the procedure of Diwali Pooja, people should buy a new idol of Goddess Lakshmi. The Lakshmi Pooja should include 16 steps in their worship, which is known as Shodashopachara Puja. It includes dhyan, aavahan, pushpanjali asana, swagat, padya, arghya, snan, panchamrita snana, gandha snan (bathe the idol with scented water), shudha snana (bathe the idol with pure water), vastra, madhuparka, abhushana, rakhtachandana, sindoor, and abira-gulal.
You should then offer scent to the idol of Goddess Lakshmi. Then one should offer unbroken rice, chandan, flowers, and a coconut. The devotees then have to recite prayers for Goddess Lakshmi. After that, they also have to do ashta-siddhi pooja, ashta-lakshmi pooja. Devotees then offer dhoop, deep, naivedhya, water, betel (paan) leaves, and a gift (in any form). Make sure that you end your Lakshmi Pujan by seeking pardon from the Goddess for any mistake committed while chanting the mantras.
Lakshmi Puja Aarti - Om Jai Lakshmi Mata with Hindi, English Lyrics
Lakshmi Pujan or Diwali Pooja happens to be one of the most important rituals for people of the Hindu community. Nothing gets bigger than doing Laksmi Pooja on the day of Diwali. We, at LatestLY, wish you and your family a very Happy Diwali 2019!