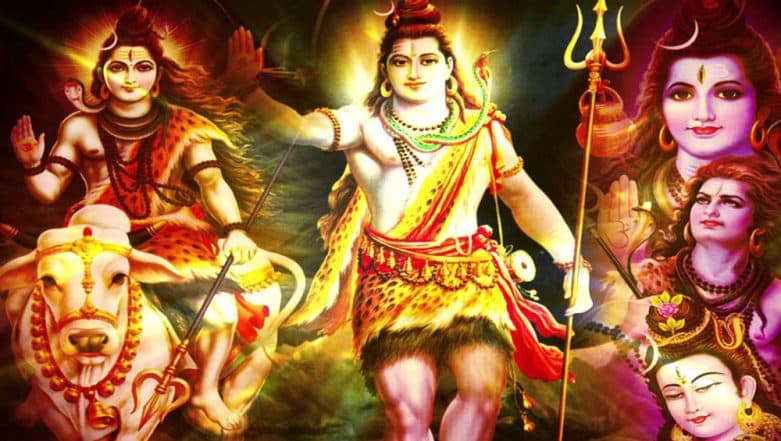 One of the biggest Hindu festivals, Mahashivratri (or, Maha Shivratri, Maha Shivaratri) will be celebrated on March 4, 2019 (Monday). Mahashivratri means 'the Great Night of Shiva' and observances include fasting, all-night vigil, and worship of Shiva Lingam. During the vigil (Jagran), devotees chant mantras, shlokas and sing Shiv bhajans and aartis (devotional songs) all night to please Mahadeva, the 'god of gods.' There are several Shankar Bhagwan bhakti geet based on ancient shlokas such as "Karpuragauram Karunavtaaram", "Mahamrityunjaya Mantra", "Om Namah Shivaya", "Shiv Shiv Shiv Shiv Aadi Anant Shiv", "Shiv Tandav Stotram," and more. In addition to this, you will also find Shiv bhajans jukebox by Gulshan Kumar, Anuradha Paudwal, Shankar Mahadevan, Sonu Nigam, and more. Mahashivratri 2019 Songs Playlist: From 'Jai Jai Shiv Shankar' to 'Namo Namo,' Hear Bollywood's Ode to Lord Shiva on Maha Shivaratri.
Mahashivaratri is celebrated in the honour of Lord Shiva. According to the Hindu calendar, there is a Shivratri every lunisolar month, and the main festival aka Great Shivratri or Maha Shivaratri takes place on the 13th night/14th day of the month. This festival which has several mythological legends associated with it is celebrated as a mark of 'overcoming darkness and ignorance' in life. Devotees celebrate Mahashivratri to mark Lord Shiva and Parvati's wedding. Maha Shivaratri 2019 Songs by Sonu Nigam: Listen to 'Shiv Shankara' and 'Bam Bhole Bam' Devotional Songs on Mahashivratri.
As mentioned above, devotees celebrate Mahashivratri in many ways including staying awake all night. A vigil is a period of purposeful sleeplessness, an occasion for devotional watching, or an observance. In this time, devotees indulge in several activities - from chanting prayers to fasting and meditation, the day is dedicated on the discovery of Shiva and his values on ethics and virtues such as self-restraint, honesty, non-injury to others and forgiveness. Devotional songs play an important part during Mahashivratri celebrations. Bhajans are purely divine, in which devotees express their devotion, their love for God by singing songs. Bhojpuri Songs for Mahashivratri 2019: Manoj Tiwari's Shiv Bhajan to Hari Om Hari Om, Playlist of Latest Bhojpuri Maha Shivaratri Music Videos.
1. Shiv Shiv Shiv Shiv Aadi Anant Shiv
2. Karpuragauram Karunavtaaram
3. Shiv Bhajans Jukebox by Anuradha Paudwal
4. Shiv Bhajans Jukebox by Gulshan Kumar
5. Shiv Tandav Stotram by Shankar Mahadevan
Apart from the devotional songs that you may play and sing on Mahashivratri, we have also mentioned about Mahashivratri 2019 vrat time and puja vidhi, along with other FAQs related to Maha Shivaratri to celebrate the day without any hindrance. You can also get your hands on latest Mahashivratri wishes, greetings, messages and images by following stories under the Mahashivratri 2019 topic page. We wish you a very Happy and Blessed Maha Shivaratri!