Shivrajyabhishek Din, also known as the Coronation Day of Shivaji Maharaj, holds a special place in the hearts of the people of Maharashtra, India. It is a day that commemorates the historical event of Shivaji Maharaj's coronation as the Chhatrapati (emperor) of the Maratha Empire on June 6, 1674. As you observe Shivrajyabhishek Din 2023, we at LatestLY have bought together a collection of Shivrajyabhishek Din messages, 'Shivrajyabhishek Din Chya Hardik Shubhechha' greetings in Marathi,  Shivrajyabhishek Din images and HD wallpapers that you can download and send to all your near and dear ones to wish them on this day.
The significance of Shivrajyabhishek Din extends beyond religious and cultural celebrations. It serves as a reminder of the values that Shivaji Maharaj stood for - justice, equality, and the welfare of his subjects. Administrative reforms, social upliftment, and the promotion of art and culture marked his reign. Shivrajyabhishek Din inspires people to emulate his ideals and work towards building a just and prosperous society.
Cultural programs are organized to showcase the rich heritage and traditions of Maharashtra. Folk dances like Powada, a martial dance form depicting the valour of Shivaji Maharaj, are performed with great fervour. Theatrical performances and storytelling sessions narrate the heroic tales of Shivaji Maharaj's life, highlighting his courage, strategic brilliance, and commitment to justice.
People also visit historical sites associated with Shivaji Maharaj, such as Raigad Fort, Pratapgad Fort, and Sindhudurg Fort, on this day. These forts stand as enduring symbols of Shivaji's military prowess and his indomitable spirit. Many people undertake pilgrimages to these sites, seeking inspiration from the life and achievements of Shivaji Maharaj. As many also share wishes and messages of the day, here is a collection of festive greetings you can download and send to one and all to wish them on this day.
Shivrajyabhishek Din 2023 Quotes & HD Images in Marathi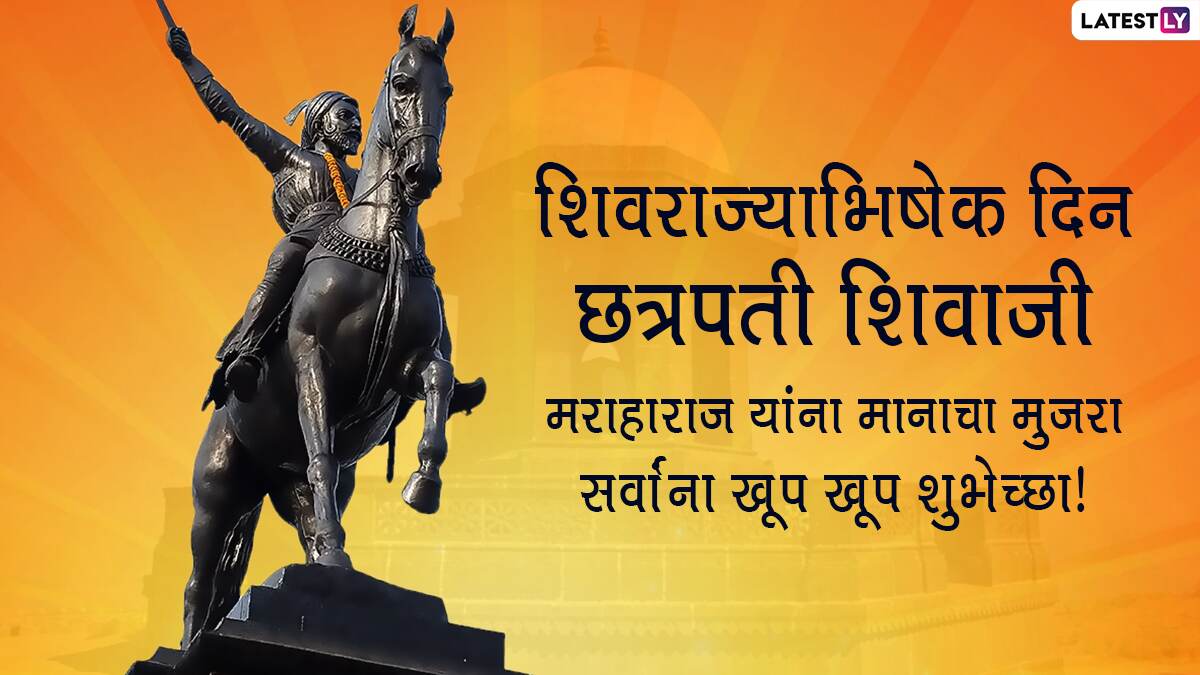 Shivrajyabhishek Din 2023 Quotes & HD Images in Marathi
Shivrajyabhishek Din 2023 Quotes & HD Images in Marathi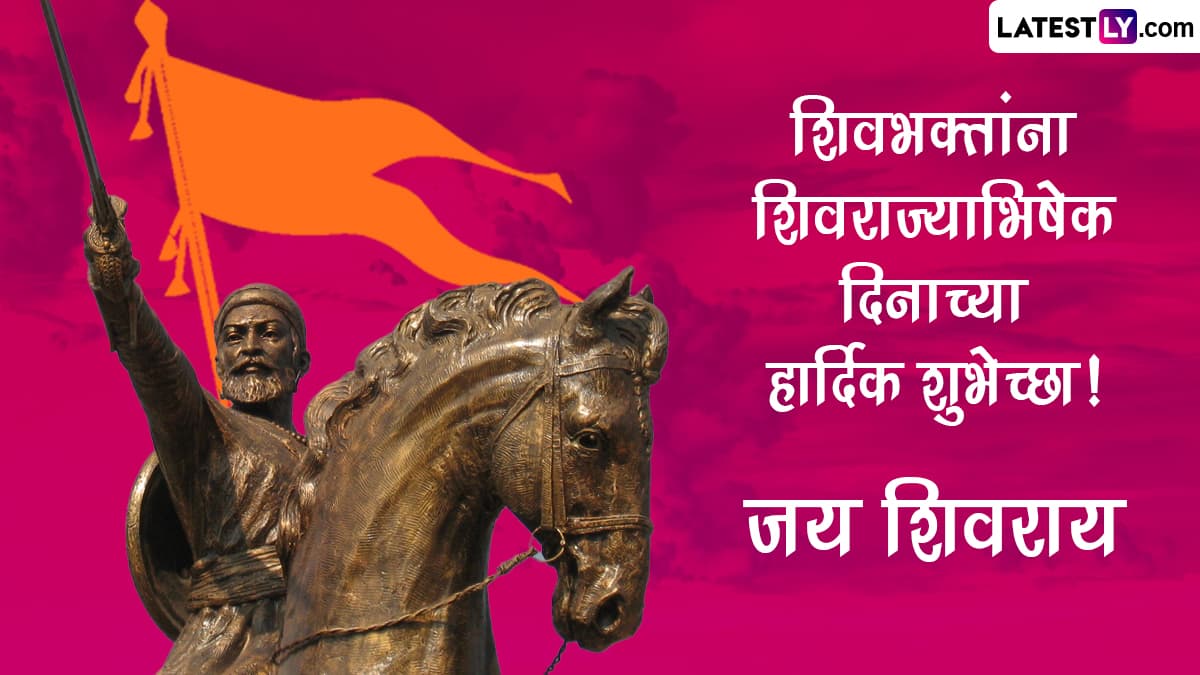 Shivrajyabhishek Din 2023 Quotes & HD Images in Marathi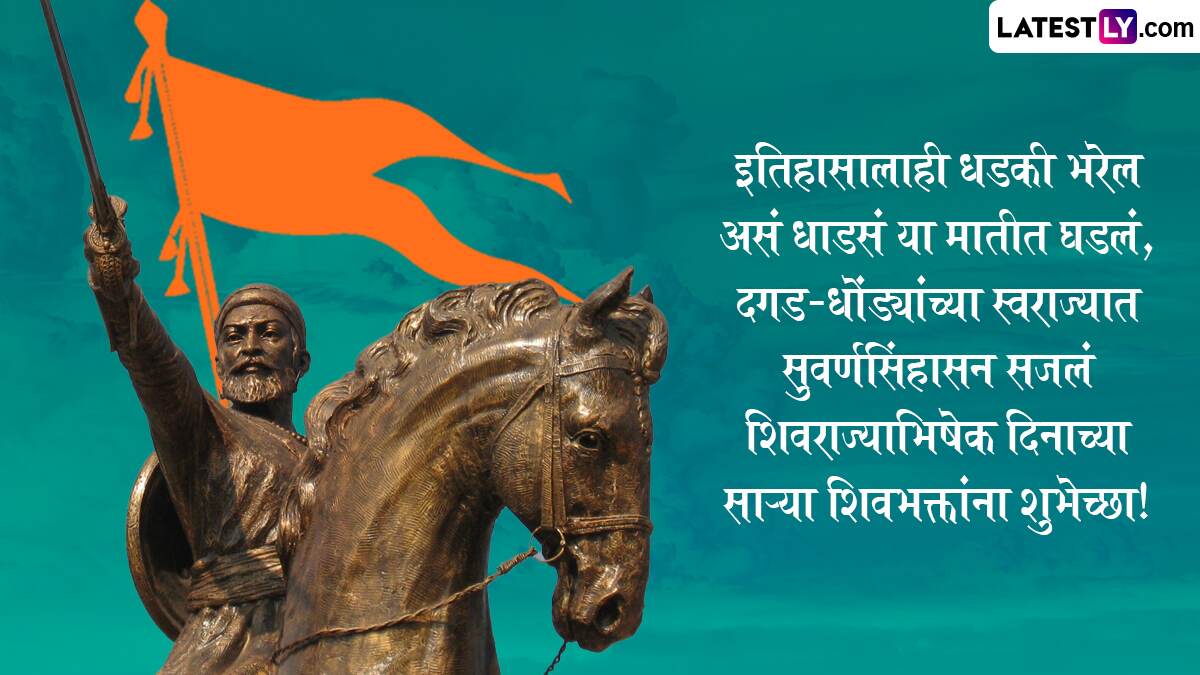 Recently, the celebration of Shivrajyabhishek Din has taken on a more inclusive approach, with people from various backgrounds joining the festivities. The day serves as a unifying force, bringing together people from different communities to pay homage to Shivaji Maharaj's legacy. Wishing everyone a Happy Shivrajbhishek Din 2023!
(The above story first appeared on LatestLY on Jun 06, 2023 07:01 AM IST. For more news and updates on politics, world, sports, entertainment and lifestyle, log on to our website latestly.com).