New Delhi, February 13: Amidst chaos, love blooms. And these couples not just know it but have felt it in their quest for lifelong companionship. Interfaith couple Safvana Yasmine met Arjun through common friends. Three years elder to her, he was a senior at school and she was all of 13. "We both knew that we like each other, but I was the first one to approach him," says Safvana, adding, "I went up to him and told him that I know that you love me and I love you too. However, I don't think this is going to work out so let's end it here."
This is how their story started.At that point the two youngsters felt that their attraction won't materialise into something more fruitful due to religious differences and societal stigma. However, future had something different in store for them."A year following the confession, we started dating and it gradually bloomed into a relationship." Valentine's Day 2019 Wishes in Advance: Romantic WhatsApp Stickers, GIF Image Messages, Love Quotes, SMS to Send Happy Valentines Day Greetings.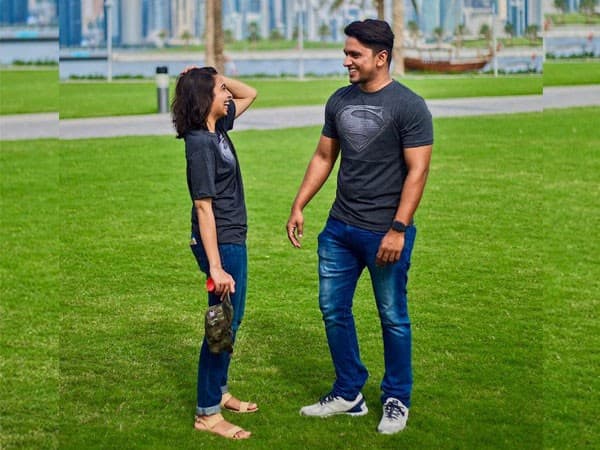 Safvana, a writer and Arjun who is into cyber security have been dating for 10 years now. "We will be together for 11 years this April," she quips.However, as the Bard had once written, "Love is not love Which alters when it alteration finds," and the couple were tested to the hilt."For the first few years of our relationship, I wasn't very confident about myself. I was too young and had this guilt because of my parents. I knew he was the guy for me but I didn't know how to tell my parents." Valentine's Day 2019 Romantic Shayari in Hindi & Urdu: WhatsApp Stickers, Quotes, Messages, SMS, GIF Images, Instagram Love Posts to Wish Happy Valentine's Day.
Arjun says that their families are still not okay with the idea of them dating and have been asking them to stop seeing each other for a very long time now.Arjun adds, "For me, Love means her. We've gone through all the ups and downs together. We were there for each other no matter what came our way. If you can understand each other for who they are instead of adjusting, you can thrive in love."
Safvana adds that when their parents realised that they were serious about each other, they started to ban her from going outside their house. During this period they even took away her phone and did not allow for them to talk to each other. Somehow, love prevailed. Safvana says that one of the reasons that their relationship worked was because Arjun is quite strong headed about it. His parents also keep pushing him towards a break up but he has cleared his decision to them.Pushed into a corner by both families Safvana says that they want to get married to each other and are trying to convince their parents.
"Our first plan is to get our parent's approval. However, if that doesn't work we will run away," says a determinate Safvana.On the other hand, queer and proud Debendra Nath Sanyal is happily living with his boyfriend Ankit Andurlekar for two years now.Debendra was 25 and Ankit 23, when they first met through a social media app. "It took us around 3 days to meet because of our work schedule but we finally met at my house. The meeting was magical, we sang songs on karaoke, danced on peppy Bollywood songs, talked about our lives, drank wine, ate food that I had made. The evening was way more romantic than I had expected and it was definitely 'love at first sight'. Everything about Ankit made me fall in love with him," elaborates Debendra, a client servicing manager by profession.
However, things were not smooth for the couple. They too had their share of problems. For starters, Ankit was not out to his family. "After a few months of dating, Ankit came out to his parents. His parents took a very long time to accept him. There were sudden outbursts of pain and disappointment at his house which was emotionally draining not just for him but for me as well. It took a lot of patience to make them (Ankit's mum, dad, brother, and grandmother) to come to terms with Ankit's sexual orientation and accepting me as his partner."
Ankit adds, "Deb was out to his family, he had introduced me to his parents and they were all very accepting towards me. His mother counselled me many times and explained to me what parents have to go through when their kids come out of the closet. I was not out to my parents and when I was, the fight was of explaining my love for Deb. My parents were not approving our relationship and thought Deb was a bad influence. But after I moved in with Deb and they saw how happy I am with him, all their worries and concerns came to an end."
"Now they love and pamper him more than me," he adds cheekily.The duo add that life has been amazing since they had the courage to face their adversities. Their parents have accepted them and they are out to everybody.
"We both have found an immense amount of self-confidence that we had lost growing up while we were in our own little closets," opines Debendra. Having faced so much adversities and yet having emerged victorious in love, ask the queer couple what do they want to advise young couples who too are fighting for their soulmates, Debendra concludes, "Believe in love! Your love will guide you to overcome all the struggles in your way. Never ever take love for granted, you might not be able to find it again."