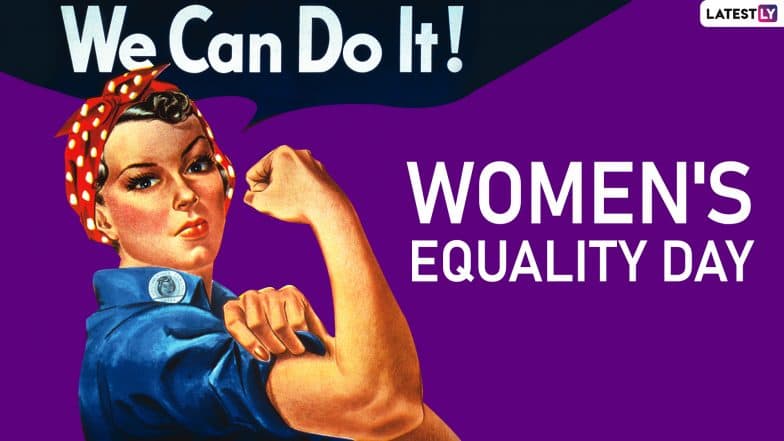 There has been a sea change in the way the world views women today. But that was barely the case a few decades ago. Since the early 20th century, women have banded together, asking the world for rights that were long denied. In 1903, the suffragette movement started, which clinched women the right to vote and property rights. Along came the 60s, giving rise to the second-wave feminism, which aimed to addresses issues of sexuality and reproductive rights. The third wave of the 1990s picked up from where their predecessors left and aimed at defining what feminism really means. And the fourth-wave of the 2010s focused on intersectionality. At the heart of all these movements lay one basic demand -- Equality. On August 26, the world celebrates Women's Equality Day that serves as a reminder for the long road that womankind has travelled and the even longer one that lay ahead. But can we say women are truly equal to men? This collection of facts on Women's Equality Day 2019 paints a grim picture.
1. Women are Poorer
Sure, we have come a long way economically. But gender inequality is the major cause of poverty and hunger in women. According to WFP Gender Policy and Strategy, an estimated 60 percent of those chronically hungry in the world are female.
2. Women More Likely to be Unemployed
Even as more and more women join the workforce, they still have a harder time being employed than men do. According to United Nations, global unemployment rates for women in 2017 are 6.2 percent when it is 5.5 percent for men. The situation may stay the same till 2021. Challenges Women Are Yet to Overcome.
3. Women are Paid Lesser Than Men
"Equal pay!" should be women's collective war cry in the years to come. The wage gap between men and women is 23 percent! As US Wins FIFA Women's World Cup 2019, Fans Chant 'Equal Pay!' at the Stadium (Watch Viral Video).
4. Women Don't Hold Enough Land
When it comes to landholding, men are ahead of women, who constitute only 20 percent of the total landholders in the world.
5. More Women are Illiterate Than Men
Educating the girl child is still not a priority for many families around the world. Women make up two-thirds of the world's illiterate, which stands at 760 million, according to umwomen.org. Data collected from 42 countries also show that girls from rural areas are twice as likely to drop out of school than urban girls.
6. Women Do More Unpaid, Domestic Work Than Men
Women tend to spend more than twice the time than men do on unpaid and domestic work, which is important to the economy but is rarely counted or appreciated. According to the United Nations Research Institute for Social Development, if unpaid domestic work were to be assigned a monetary value, it could account for 10-39 percent of the GDP.
7. Women are Less Likely to Have Social Protection
Women are less likely to avail themselves of pensions, unemployment benefits, maternity privileges and other forms of social protection due to the inequality they face in employment.
8. Glass Ceiling is too High for Women
Although women have been excelling at the workplace, breaking the glass ceiling is still a distant dream. According to The Global Findex Database 2014, only five percent of the Fortune 500 CEOs are women.
Banishing inequalities in gender and bringing women at par with men has numerous benefits. For instance, the financial empowerment of women can benefit the nation's economy. Bringing more women into the workforce and giving leadership opportunities to them can increase the effectiveness and progress of the organisation. On Women's Equality Day 2019, these are some of the crucial points to ponder upon.