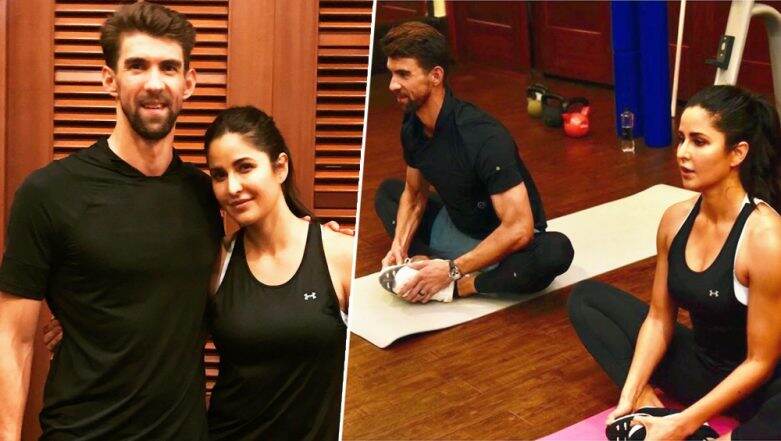 Katrina Kaif, one of the fittest actresses in Bollywood, seems to be having a good time training with decorated Olympian of all time Michael Phelps. The Bharat actor shared pictures with Phelps on social media after promising followers about posting a training video with him. In one of the pics, Kat is seen performing Baddha Konasana, a yogasana with the Olympian.  Katrina Kaif to Train with Michael Phelps! 'Wanna Know What You Taught Him,' Teases Arjun Kapoor on Instagram.
Katrina Kaif constantly posts her pilates workout videos on her social media account. She is a fitness freak and that's probably the reason why renowned Olympian Michael Phelps chose her to endorse Under Armour in India,  an American company. Under Armour manufactures footwear, sports and casual apparel and it has recently opened a store in New Delhi earlier this week.
View Pictures of Katrina training with Michael Phelps
In the above pictures, we can see Kat doing Baddha Konasana pose. This yoga exercise should be performed in an empty stomach.  This asana helps in blood circulation of the entire body and also reduces fatigue and stress. By performing this exercise, one can also cure diseases like asthma and high blood pressure.
Speaking of Katrina films, her recent release Thugs of Hindustan and Zero faired badly on box office. However, she is expected to make a good comeback with Ali Abbas Zafar' s Bharat,  which is scheduled to release on the occasion of Eid this year. In this movie, she is starring opposite Bollywood superstar Salman Khan.