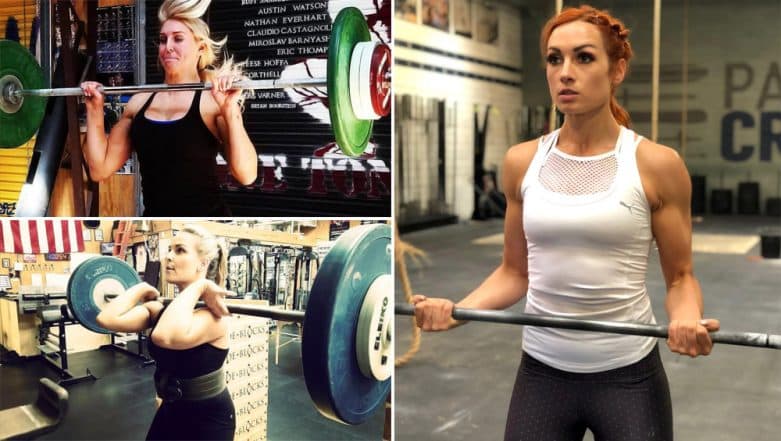 In the era of women empowerment, there is nothing that a woman can't do.. Women are standing shoulder-to-shoulder with men in all walks of life, be it corporate, politics, sports, entertainment, etc. Even in the world of professional wrestling, women have been leaving their mark. Names like Ronda Rousey, Becky Lynch, Charlotte Flair, Natalya and Mandy Rose have dominated the male space of WWE and have their own fan base. They have enviable physical strength, capable of even putting the men to shame. On International Women's Day 2019, let's draw some fitness inspiration from the first ladies of WWE.  International Women's Day 2019: Ladies, Get Inspired by These Celebs for a Fit and Sexy Body.
You must have seen these WWE divas battling it out in the ring. These women not only look gorgeous on screen but they are insanely fit too. They can kick, punch, flip and whip out all kind of manoeuvres. The women spend hours in the gym to bring out their best performance. The intense workout of these females has helped them achieve bodies which give them a competitive edge within the squared circle. Now let us take a look at their workouts, which will inspire you to hit the gym.
1. Ronda Rousey
Ronda Rousey is the current WWE Raw Women's Champion and is known for her brutal submission move in the ring. She is the first American women to earn an Olympic medal in judo; she won bronze at the 2008 Summer Olympics. She also holds the record of longest reigning UFC Women's Bantamweight Champion. Rousey has also featured in movies like The Expendables 3, Furious 7 and Mile 22.
Workout of Ronda Rousey
As the Raw Women's champion is also MMA fighter, she mostly does strength and conditioning workout. She trains for speed, endurance, agility and strength which is the main component in Mix Martial Art Training.  In the video, you can see how she puts resistance tubing band to productive use.  Ronda Rousey also works well on strengthening her core, which is a must for every sportsperson.
2. Becky Lynch
Becky Lynch, the Irish woman, is also known as 'The Man'. She recently won the woman's battle royal at WWE Royal Rumble PPV. This helps her chose her opponent at WrestleMania to fight against either Raw or SmackDown women's champion. The Man chose Ronda Rousey to compete for Raw Women's Championship at WrestleMania 35. As per WWE storyline, she was replaced with Charlotte Flair for a title opportunity at WrestleMania. However, the good news for her fan is that she will be competing this Sunday against The Queen Charlotte Flair at WWE Fastlane PPV. If she wins, she will enter the match for the championship title at WWE's mega event WrestleMania. Why Are Six Pack Abs Unhealthy? All That You Should Know Before Aiming for Chiseled Core.
Workout of Becky Lynch
The Irish woman strongly believes in CrossFit training since it is the amalgamation of strength, agility, endurance and power. In the above video you can see her perform one arm dumbbell snatch, sled pull, power clean, snatch and front squat. This is why Becky Lynch is known for her athletic moves in the ring.
3. Charlotte Flair
'The Queen' Charlotte Flair is the daughter of famous WWE wrestler Ric Flair. Charlotte made her debut in WWE in the year 2012 with NXT brand. She holds the record along with Trish Stratus, for holding WWE Women's world championship belt 7 times. Recently she has been chosen by Vince McMahon to fight at WrestleMania 35 against Ronda Rousey for Raw Women's championship. However, this Sunday at Fastlane PPV, she will be facing Becky Lynch, if Becky wins the match, then she will have to battle both Lynch and Ronda Rousey for the title at WrestleMania.
Workout of Charlotte Flair
Charlotte loves doing strength training where she mostly performs squats and explosive exercise like snatch and power clean. Her strength is unmatched, which can be seen in the video. She is no less than any male athlete when it comes to weightlifting capacity. How to Reduce Body Fat in 4 Mins; Beginner's Guide for Tabata Workout at Home.
4. Natalya
Natalya is the member of The Hart wrestling family. She is two-time Women's champion in WWE, performing on the Raw brand. Natalya is known for being tough on her opponents. She signed a contract with WWE in the year 2007. WWE WrestleMania 35, 2019: Date, Location, Match Card and Predictions.
Workout of Natalya
Natalya believes in a strong lower body and insists on training legs muscles continually. She loves doing heavy squats which helps her give power bomb easily to her opponents. Apart from heavy squats she does other Olympic lifts like the snatch, clean and jerk along with compound exercises like deadlifts and push presses.
5.Mandy Rose
Rose made her debut in WWE in the year 2015. She has challenged the current SmackDown Women's championship Asuka for the title match at this Sunday Fastlane PPV. Mandy Rose started her career by competing in WWE Tough Enough competition where she stood second. She is also known for fitness modelling, and she came first in World Bodybuilding Fitness and Fashion(WBFF) Competition held at Boston in the year 2014. Mandy also won 2014 WBFF Diva Bikini Pro World Championship.
Workout of Mandy Rose
As Mandy Rose is a fitness model herself, she is quite conscious of her aesthetics. She does the right amount of isolation training, concentrating on the development of individual muscle. As you can see in the video above, Rose is training her shoulder(deltoid muscles)
These ladies prove that that weight training or various other vigorous forms of exercises are meant only for men. They prove that strong is definitely sexy!