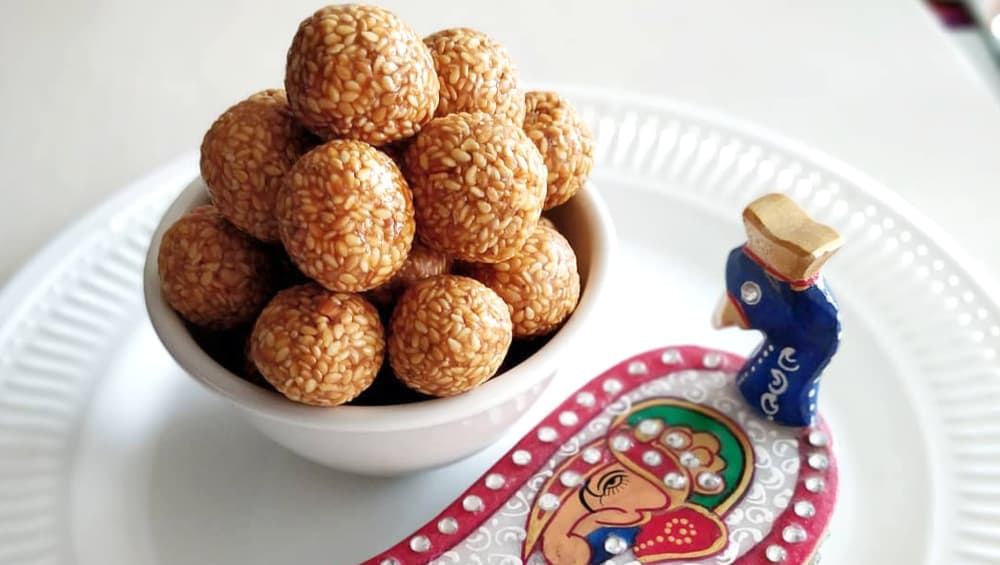 As the winter comes to a close, the onset of spring is celebrated with great fervour across the country. Celebrated as Makar Sankranti in some regions, Pongal in Tamil Nadu and Bihu in Assam, this harvest festival is one of the most auspicious days in the Hindu calendar. Each region has its signature rituals but the common thread is the delicious spread of food that is prepared to pay homage to the season and its bounty. From chikki and laddus to small pallets of whole sesame and jaggery called rewri and tilkut, the til and gud appear in numerous avatars. But turns out that the tilgul can also help you lose weight. Here's how:
They Are Rich in Satiating Protein
The sweet treat contains satiating high protein which aids in keeping you in shape. Protein regulates your appetite since it takes more work to digest, metabolise, and use, which means you burn more calories to process the protein. Health Benefits of Tilgul Laddu, Why You Should Eat This Sesame and Jaggery Sweet
They Contain De-Bloating Fibre
These crispy munchies with jagerry and sesame seeds are full of digesting-aiding and de-bloating fibre that keeps you satiated and prevent those in-between hunger pangs. Makar Sankranti Recipes: Celebrate the Indian Solar Festival with These Traditional Dishes
They Are Low in Calories
These laddus are low in calories apart from being super delicious. So even if you gulp down three to four laddus at a time, it is going to make no difference to your waistline. Makar Sankranti 2020 Dishes: From the Til Gud Ladoo to Moong Dal Ki Khichdi, Traditional Recipes To Celebrate The Harvest Festival
If you are looking to drop some kilos, portion control and cutting down on sugar is crucial. But guess what? There are still sweet treats like the tilgul laddu that can contribute to your weight loss goal. Bonus? If you have a nut allergy or are looking to benefit from the calcium and protein in the sesame seeds, or you simply want to switch up, the til ke gud is a must-try this season.